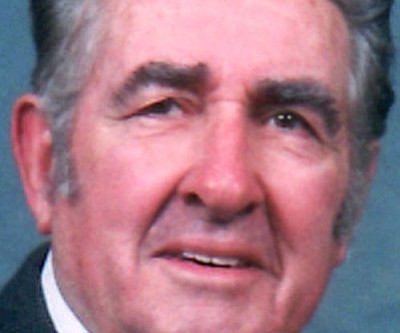 Originally Published: September 13, 2011 6:01 a.m.
Harry Chester Piper, 88, of Kingman passed away at his home on Wednesday, Sept. 7, 2011. He was born April 3, 1923, in Bakersfield, Calif., to John Piper and Pearl Smith. He came to Kingman 17 years ago from Pasadena, Calif.
Harry graduated from high school and spent two years in college in San Jose, Calif. He was a sales manager for Fuller Brush Company in Pasadena, and his last job was supervisor for Zee Medical Service Company in California. He was a veteran of World War II, having joined the U.S. Army Air Force in 1944. Harry was a member of the Society for the Preservation and Encouragement of Barber Shop Quartet Singing in American in Pasadena. He graduated from the International Academy of Lumphology. He was a member of the American Legion, a member of Kingman Elks Lodge and bingo volunteer for 12 years.
Harry is survived by his loving wife, Marina Piper of Kingman; his son, Glen Piper of Milwaukee; his sister, Geniece Eliot of Mesa; and his sister-in-law and her husband, Fanny and Vern Sherwood of Bullhead City; and many nieces and nephews. Harry was a loving husband, a good father and a kind person with his relatives and friends. He went to join the Lord and is in a better place. He will be greatly missed by his family and precious friends.
Visitation will be from 5 to 7 p.m. Wednesday, Sept. 14, with the Rosary at 6 p.m. at Sutton Memorial Funeral Home, 1701 Sycamore Ave. The service will be at 10 a.m. Thursday, Sept. 15, also at Sutton. Interment will be at Mountain View Cemetery, 1301 Stockton Hill Road.
More like this story