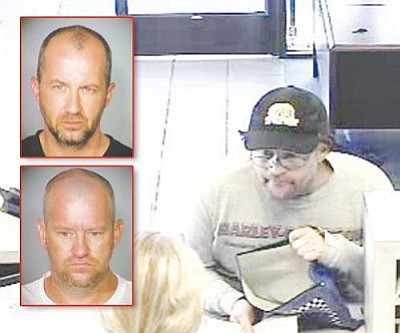 Originally Published: September 13, 2011 6:01 a.m.
KINGMAN - Kingman Police are investigating whether two brothers from Las Vegas arrested last week in a Fort Mohave bank robbery are responsible for the August robbery of the US Bank branch on Stockton Hill Road.
Thomas Joseph Leavy, 39, and Kevin Michael Leavy, 38, were arrested on the Nevada side of the Colorado River after jumping in the water at Rotary Park on the Bullhead City side. The brothers were being pursued by a deputy with the Mohave County Sheriff's Office who had intercepted the pair while southbound on Highway 95 after the Horizon Community Bank heist around noon last Wednesday.
The deputy hailed a jet skier who gave him a ride across the river. That deputy reportedly found the men exhausted on the riverbank while the jet skier doubled back to give the deputy's partner a ride across as well.
Because they were arrested in Nevada, the two men were booked into the Clark County Jail in Las Vegas. Bullhead City police officers contacted Kingman Police after they found wigs allegedly belonging to the men.
With a wig on, Thomas Leavy could be a match for the man who robbed the US Bank Aug. 31, said Kingman Police Capt. Rusty Cooper. He said police have focused their investigation to see if the Leavys were responsible for the Kingman robbery.
The money from the Fort Mohave robbery has reportedly not been found.