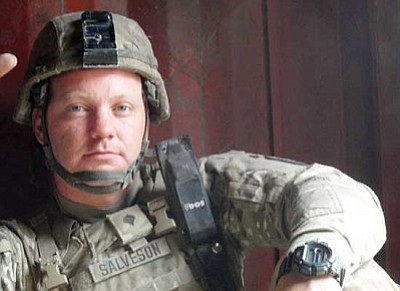 Originally Published: September 16, 2011 6:03 a.m.
KINGMAN - Another soldier from the Kingman area has been wounded while serving in Afghanistan. Alana Cobb received word from her son Jason Salveson on Sept. 10 that he had been injured, he was okay and he was heading into surgery.
"He said he had shrapnel in his arms, legs and stomach and a concussion. He couldn't tell me what happened, but said it would certainly make the news," Cobb said.
The next day the Associated Press reported that a truck bomb had exploded outside of Combat Outpost Sayed Abad, which is about 40 miles from Kabul. The bomb killed five Afghans and injured 77 American soldiers and 17 Afghans. Combat outposts usually hold about 200 troops. The bomb was so powerful it damaged 100 shops in a nearby bazaar. The Taliban has claimed credit for the bombing.
Salveson was stationed at Sayed Abad. He called Cobb again on Sept. 11 to let her know that he came through the surgery and was doing fine. He told her a blast wall protected most of the outpost from the bomb, but the fitness center Salveson was working out in and the barracks he was staying in were heavily damaged, she said.
"He didn't know if he had anything left," Cobb said.
A friend later told him that his computer and a few other things survived the blast.
"Computers are their lifeline," she said. The troops use them to e-mail, Facebook, watch movies and keep in
contact with family members.
Salveson has served as specialist in the U.S. Army for two years. This is his first tour in Afghanistan and the second time he's been wounded, Cobb said. He received a concussion in Augusts when a Chinook helicopter was shot down seven miles from the outpost, killing 30 Americans. Many of the soldiers killed in that incident belonged to SEAL Team 6, the same unit that killed Osama bin Laden.
Cobb said her son has also lost friends since he started his tour.
"He's seen a lot more than any parent wants their child to see," she said.
Salveson is currently staying at an Air Force base in Afghanistan while he is being treated, she said. His injuries will be re-evaluated in a week and then he will be either shipped back to the outpost or to another base for more treatment. His tour ends in October and he has requested leave to come home in November.
Cobb said people interested in sending him a note can find him on Facebook. Cards, donations and other well wishes can be dropped off at Razorz Edge Barber Shop at 1853 Airfield Ave. The owner of the shop has been collecting donations for care packages for local soldiers such as Salveson for more than a year.