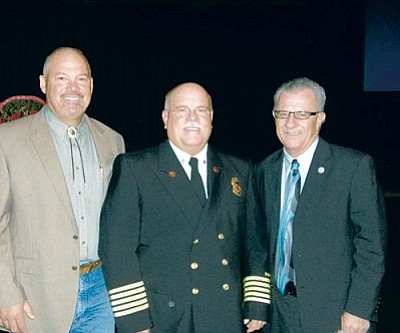 Originally Published: September 20, 2011 6:01 a.m.
KINGMAN - During the recent 2011 Arizona Fire School held in Mesa, Kingman Fire Chief Chuck Osterman was inducted into the Arizona Fire Service Hall of Fame.
Established in 1998, the Arizona Hall of Fame recognizes individuals who have made a significant, positive contribution to the fire service and their community and which brings credit to the fire service.
The honor was presented during the opening ceremony of the 38th annual Arizona Fire School. This latest award for Osterman comes on the heels of receiving the Lifetime Achievement Award from the Arizona Fire Chiefs Association in July.
Chief Osterman has been a member of the Kingman Fire Department since 1976, working through the ranks before becoming chief in 1993. He comes from a family of Kingman firefighters, including his great uncle Albert Osterman, father and past Chief John Osterman Jr., and brothers John Osterman III and Carl Osterman.