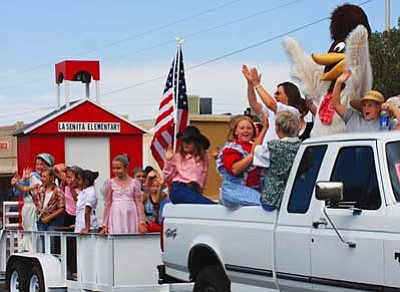 Originally Published: September 22, 2011 6 a.m.
KINGMAN - Kingman is celebrating Arizona's birthday early this year.
The state turns 100 next year and has been celebrating since early this year. That includes Kingman, which has made the Arizona Centennial celebration the theme of Saturday's Andy Devine Days Parade.
The parade begins at 10 a.m. at First and Beale Streets. The parade route then heads east on Beale to Sixth Street, and then north on Sixth to Spring Street, where it ends at Spring and First.
Media personality Earl Hamlyn will serve as the parade's Grand Marshall.
The review stand will be situated at the corner of 4th and Beale streets where local reporter Dave Hawkins will announce the entries as they pass from that location.
The parade serves as the official kickoff for Andy Devine Days, which includes a rodeo at the Fairgrounds Saturday and Sunday.
The Parks and Recreation Department said 94 entries are registered for this year.