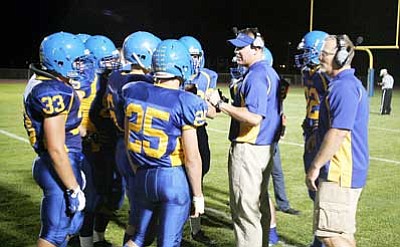 Originally Published: September 23, 2011 6 a.m.
KINGMAN - Kingman High coach Rob York told his players after KHS's 27-7 loss to Parker that they had a choice: Either they can turn the season around and finish 6-4, or they can become the first team in the history of the school to go 0-10.
So far it seems that the players have responded.
"Kids are going harder than they normally would," York said. "As far as an entire team, I don't think there are 20 or 30 guys here going at 100 percent, but I think (they are going) more than (they) have been in the past couple of weeks. Which is good, because that means they are taking it to heart."
The last time KHS didn't win any games during a season was in 1924, when the Bulldogs went 0-5. If this team doesn't want history to repeat itself, they are going to have to hold each other accountable for giving an all-out effort.
It's something that the coaching staff has noticed as well, where if one player didn't go hard on a drill, then everybody runs.
"The kids do know who is going hard and who isn't, and the kids need to get on them and hold each other accountable," York said. "We can only do so much. Peer pressure works and that's what they need."
Despite the success of the junior varsity team's 4-0 start, York said he would not bring players up from JV to replace those varsity players who haven't given everything.
"If there was a kid that played JV that I thought would play for us and start for us, he would be up already," York said. "As far as effort goes, that's tough. Yeah, maybe he's given a harder effort, but if he's not ready to play varsity, he's not ready to play varsity.
"You can't bring him up unless he is going to help you. We don't bring up kids that are going to sit."
Last week, KHS punter Lucas McFarland had four punts that totaled just 38 yards. To correct that, York brought in a new coach to work with the kickers, install new punt formations and make other adjustments.
"We worked on getting the ball off quicker and I think a couple times he took a little too much time," York said. "And we worked on our blocking."
KHS will look to begin the turnaround at 7 p.m. tonight when they host Bullhead City Mohave for homecoming.
The Thunderbirds (1-3) are coming off a 61-21 loss to Prescott Valley Bradshaw Mountain.
"We need to get a win," York said. "It would be nice to get it on homecoming and get the first win of the season and get the first win at the yard."
Since opening the new stadium last year, the Bulldogs have yet to win a game there, and that is something that York is hoping to change.
Homecoming
KHS will announce the Homecoming king and queen during pregame ceremonies and will honor football players from 1980-85 at halftime.