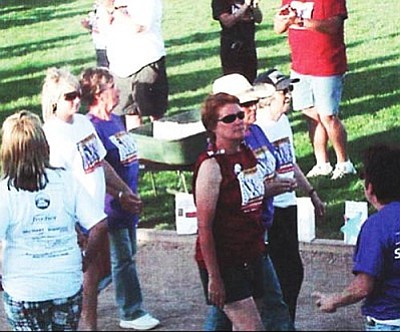 Originally Published: September 28, 2011 6:01 a.m.
KINGMAN - Friday is the last day to register for "Walk a Mile in Their Shoes," a walk sponsored by the Kingman Cancer Care Unit and designed to raise money for local cancer patients.
The day starts at 10 a.m. Saturday at the Bonelli House, where survivors, fighters and friends and family of people who passed away from cancer will speak about their experiences.
Afterward, participants will take a one-mile walk around downtown Kingman. The event concludes at Dora's Beale Street Deli, where there will be a brunch buffet and KCCU information booths.
Walker registration starts at $20, which pays for the walk and a T-shirt. An extra $10 pays for the brunch.
Between 5:30 p.m. and 7:30. Friday is the last chance for people to turn in registration forms at Dora's, 509 E. Beale St. Forms are available at the Kathryn Heidenreich Adult Center, 1776 Airway Ave. and at Dora's.
For more information, call Erin Cochran at (928) 279-8367.