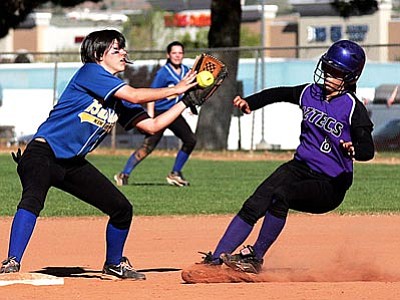 Originally Published: April 1, 2012 6:01 a.m.
Despite a minor hiccup in which Kingman High allowed four runs in the third inning to Las Vegas Desert Oasis during an 8-3 loss Friday, the Lady Bulldogs appear to be running on all cylinders now.
KHS entered the first day of the Coca-Cola Invitational at Centennial Park riding the momentum of Thursday's 13-7 win over Prescott Bradshaw Mountain that snapped a three-game losing streak. But a bad third inning in which the Lady Bulldogs committed two errors led to the four runs that KHS couldn't overcome.
"We had one bad inning in the first game and we could be 2-0," KHS coach Dave Vance said Friday.
However, the sour taste didn't last long. KHS responded against Fort Defiance Window Rock with four runs in the first inning, two more in the second and six runs in the third en route to a 13-3 win.
"Winning has been pretty rough right now, so it was nice to get one," KHS's Stephanie Weyermiller said. "I think it's going to continue."
Weyermiller ended the game 1-for-3, but her lone hit was a three-run inside-the-park home run.
"When the weather starts getting warm, the bats start to come alive," Vance said.
"This is where we were last year, 1-1 after pool play, and we came back and went though it on Saturday."
With the 1-1 record after Friday's pool play, KHS entered Saturday's single-elimination bracket play as the No. 2 seed and picked up where they left off.
Weyermiller retired the first nine Glendale Cooper Canyon hitters she faced as KHS jumped to a 2-0 lead after two innings and opened the flood gates in the fourth with five runs and a 7-1 lead after four innings. KHS held off a late Aztecs rally for a 7-6 win.
"We are starting to pile up runs," Vance said. "Earlier in the year we were only scoring two runs a game, and you are not going to win many games like that. Now we are starting to push across runs."
Courtney Baranauskas led KHS at the plate, going 2-for-4 with a double. Weyermiller pitched a complete game, giving up six runs on five hits. She struck out six and walked two.
"We need the wins," said Beth Hiser, who was 2-for-3 with an inside-the-park-home run during Friday's win against Window Rock. "We haven't done well in first half so we are looking at doing well in the second half."
KHS needed three more wins in order to win the tournament in back-to-back years. Scores were not available by press time.
Regardless of the final outcome of the tournament, KHS (5-11) hopes to carry the momentum and the team chemistry from it into next week's games at Parker and home against Flagstaff Coconino.
"We've been down and we've been looking for that team bonding, to play well together. I think we finally found it," Hiser said.