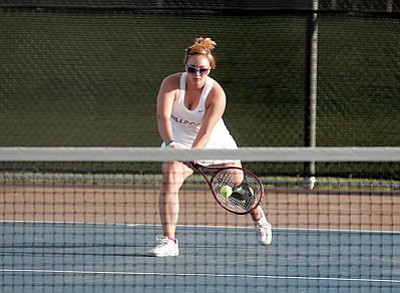 Originally Published: April 4, 2012 6:01 a.m.
KINGMAN - Riding high on momentum of Thursday's 6-3 win over Phoenix Barry Goldwater, the Kingman High girl's tennis team set its sights on Flagstaff Friday, knocking out the previously undefeated Eagles 7-2.
The Lady Bulldogs' No. 1 singles player, Natalie Casson was able to pick up her fifth win of the year, beating Aubrey Danks in straight sets, 6-4, 6-0 as well as winning her doubles match with partner Gabby Huffer 8-4 over Danks and Kiersten Steinke.
"Natalie played really well," KHS coach Traci Rosenbach said. "She played smart and found Aubrey's weaknesses."
The doubles pair of Jill Collins and Alexis Diaz won their match 8-2. Collins, Huffer, Kendra Wilson and Courtney McCans also won their singles matches.
Collins (5-2) won her match 6-4, 6-3 over Kayla Bayer while Wilson (2-5) took care of Steinke, 6-3, 6-0 and Huffer (6-0) beat Tessa Lembke, 7-6, 6-0.
McCans (6-1) rallied after falling in the first set 7-6 to come back in the second 6-4 and the tiebreaker 10-8.
"Courtney is the queen of tiebreaks," Rosenbach said. " She has played a tiebreak in almost every one of her singles matches."
Diaz (3-4) lost her singles match to Kate Broyles, 4-6, 6-4, 10-1 (tiebreaker) and the doubles pair of Wilson and McCans fell 8-1 in their doubles match.
"The girls played really well, especially considering it was our third match of the week," said Rosebach of KHS's schedule that included a match at Lake Havasu on Tuesday. "I am very proud of the girls and the way they battled for every point. They worked hard and it paid off."
KHS will host Prescott Valley Bradshaw Mountain at 3:30 p.m. today and travel to Phoenix Sandra Day O'Connor Thursday.