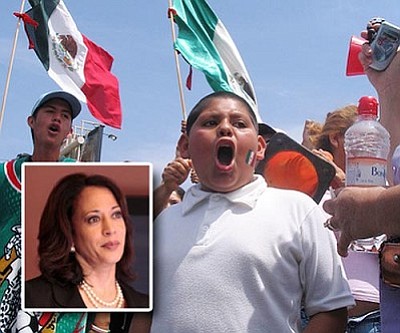 Originally Published: April 9, 2012 6:01 a.m.
A principle of the Constitution is "property rights." Property rights include prohibiting trespassing. Federal law prohibits immigrants from entering the country illegally. When that occurs, it is trespassing. Emperor Obama disdains enforcement of immigration laws, and the Attorney General refuses to enforce them, so immigration law has devolved to, at most, a round-up and recycle program.
California Attorney General Kamala Harris has recently joined several other states in the Supreme Court debate over Arizona's SB1070, saying it will "drive illegal immigrants into other states" (AP-Miner, March 29).
Is this the pinnacle of hypocrisy? More double-speak from the Sanctuary State? California does not enforce federal immigration law. To the contrary, many cities and towns in California provide formal sanctuary for illegals. How can the AG honestly make such a statement?
Nevertheless, SB1070 should be amended. As it stands, it prohibits anyone from transporting illegals. SB1070 should be slightly modified to permit Arizona government to provide bus service to patrol along I-8 or I-10, stop at designated pick-up points, board passengers at their will, and deliver them to Las Cruces or Albuquerque in New Mexico, or to San Diego, Los Angeles or San Francisco in California. Free. No charge. No hassle.
See how much longer either state remains a Sanctuary State.
D.B. Mitchell
Valle Vista