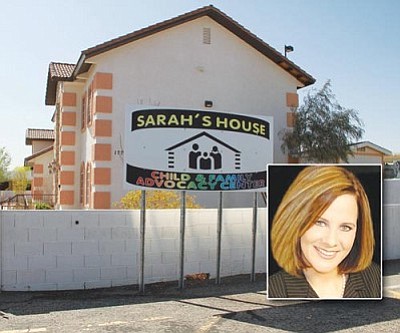 Originally Published: April 9, 2012 6 a.m.
KINGMAN - The small staff at Sarah's House are probably the only people in town who would be glad to be out of a job, since that would mean their services are no longer needed.
Instead, it is expanding its reach, with a satellite office set to open in Bullhead City later this year.
Sarah's House, established in 2000, serves an average of 35 victims of sexual assault each month by providing a less intimidating place for women, children and yes, even men, to undergo examinations and interviews following an assault.
The non-profit suffered some bad publicity in 2010 when its then-Executive Director Ivy Minnie pleaded guilty to using several thousand dollars worth of Sarah's House funds to pay for personal expenses. She was sentenced to 150 days in jail and ordered to repay $6,000 to the organization she headed.
The theft was brought to the attention of police by the Sarah's House Board of Directors, who did exactly what they tell their victims to do, said Jeannette Fisher.
"We were a victim ourselves, and we did exactly what we tell our victims to do and prosecuted the offender," Fisher said.
Fisher was recently appointed to fill Minnie's former position, which had sat vacant since her arrest. Fisher joined the organization eight months ago and was previously handling public relations and marketing.
Fisher is extending an invitation to the public to join Sarah's House on Thursday, when it will "hijack" a chamber mixer hosted by Martin Swanty Hyundai at 4180 Stockton Hill Road.
The mixer will begin at 5:30 p.m. with food and music, with a balloon release set for 6:30 p.m.
Fisher hopes the mixer will give residents a better idea of the services provided by Sarah's House.
"The biggest misconception is that people think we are a shelter," she said.
Around a half dozen advocates for Sarah's House are on-call 24-hours a day to answer requests from law enforcement to meet them at the white and orange house next to Walmart to serve as the liaison for a victim after an assault. The house takes its name from a 10-month-old girl who was killed by her abuser.
Fisher said the house is a much more comfortable environment than a hospital or police department room and helps the victims begin to process what has happened to them.
"Instead of staying a victim, it puts them on a path to being a survivor," Fisher said.
Sarah's House covers around an 8,000-square-mile radius in Mohave County. With one-third of the victims coming from the Bullhead City, Mohave Valley and Fort Mohave areas, the organization has decided to open a satellite office in Bullhead City which will be an on-call facility.
"When you have a victim coming in at 3 a.m. and you tell them they have to drive to Kingman, they often just say no," Fisher said. The idea of the satellite office would be to eliminate the roadblocks for a victim to get help, she added.
Sarah's House operates on around an annual budget of under $250,000, with around half of that coming from its annual fundraising gala and the rest coming from private donations and grants.
"With the economy the way it is, we're relying more on grants," Fisher said, although she added that last year's gala brought in its biggest haul since its inception.
The organization is currently accepting sponsors and donations for its annual benefit golf tournament at Cerbat Cliffs Golf Course June 12. For more information, contact Sarah's House at (928) 757-8103 or visit www.sarahs-house.com.