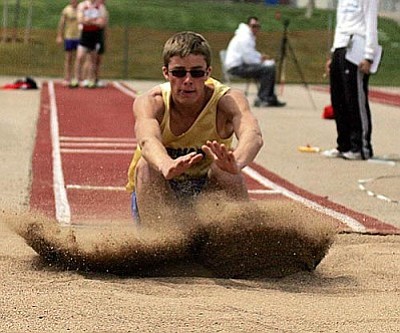 Originally Published: April 12, 2012 6:01 a.m.
KINGMAN - It was the first time in nearly a decade that the Kingman High track team hosted an invitational, and they didn't disappoint the home crowd.
The Bulldogs placed 28 boys and 22 girls in the top 10 as both squads easily won the team competition Saturday.
"It was a good meet for our kids," KHS acting head coach Rob York said. "We had a lot of success and it was good for the kids to be able to compete in front of a home crowd."
The boys teams scored 159 points and was led by Cristian Gutierrez, who placed first in both the shot put and discus with provisional qualifying marks for the state meet. Gutierrez threw 145-feet, four inches in the discus to best the 133-1 needed and had a 47-1 throw in the shot put, besting the mark needed of 45-4 needed.
In order to secure a spot with an automatic qualify, Gutierrez needs a 52-3 in the shot put and a 155-8 in the discus.
Other first placers for the boys included Garrett Whitehead, placing first in the 110-meter hurdles and the 300 hurdles, David Haun in the 1600 meters and Darian Kamin in the 100 meters.
On the girls side, Paige Cardiff won three events to lead the Lady Bulldogs to a team score of 119.
Cardiff's 5:19.76 in the 1600 was good enough to qualify her for state with a provisional time and it was 2.70 seconds short of the automatic qualifying time of 5:17.06.
Cardiff was a member of the KHS 4x400 relay team, which also included Paulina Delgado, Stephanie Goulart and Alison Owen that finished first with a time of 4:18.64. The time was good enough for a provisional qualifying.
Other first place finishers included Amber Tackett in discus with a 98-07 throw that gave her a provisional distance, Owen in 300 hurdles, and Delgado in long jump.
KHS will head to the Westside Qualifier Saturday in Glendale.
More like this story