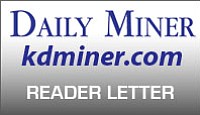 Originally Published: April 13, 2012 6 a.m.
I've heard GOP presidential hopeful continually say that President Obama has made the U.S. economy worse. Although there are far too many who are still out of work, the job market has improved.
During the last year of President G.W. Bush's term the economy in recession lost 3.82 million jobs. This downturn in the job market continued during the first 14 months of President Obama's term, losing an additional 5.05 million jobs, the recession claiming a total of 8.87 million jobs! The good news is that for the last 24 months, 3.94 million jobs have been added.
The economy is getting better and not worse, and a return to the same policies that got us into this mess would slow recovery down, not make it better. I will be voting for Obama in November and look forward to an improving economy.
Joe Longoria
Kingman