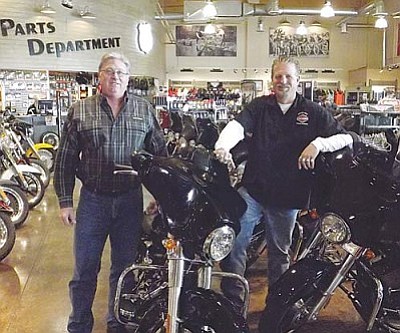 Originally Published: April 15, 2012 6:01 a.m.
KINGMAN - There are more than 600 Harley-Davidson dealerships in America. Kingman's version, Mother Road Harley-Davidson, is in the top six.
Harley-Davidson recently awarded Mother Road with the Platinum Bar & Shield Circle of Distinction for 2011. The award, which takes into account everything from customer service satisfaction to product sales performance, is bestowed each year on the top six dealerships in the country.
"We're in good company," said John Morotti, Mother Road's owner. "We're also the only one in Arizona to win."
The formula used to give out the award puts emphasis on, among other things, training and service recognition. General Manager Tony Campbell explained that Harley-Davidson offers programs of continued education for employees all over the nation. There, they can earn levels such a staff, technician, expert and master. Mother Road employs one master, one expert and two technicians, Campbell said.
Another point of emphasis for the award focuses on customer satisfaction. Morotti explained that the company sends out surveys to customers 30 days and 18 months after they purchased a motorcycle at Mother Road. The 30-day survey focuses on customer satisfaction while the 18-month survey looks at service satisfaction, he said.
"Employees are all of it," Morotti said. "Without customer service, it doesn't matter how good you are. Our customer service comes from employees taking pride in their job. I also want to thank all our customers for supporting us."
Mother Road opened in 2001. Since then, the dealership has won six Bronze Star & Shield awards, one Silver Bar & Shield award and a Top Service Excellence award.
"John's investment in providing a professional experience for the customers along with the employee's pride - you can't buy that," Campbell said.
Campbell and Morotti want to plan a celebration for the employees but it's going to have to wait, as Mother Road is coming up on the busiest time of the year - spring riding season.
"We work all winter to get ready for the spring riding season," Morotti said. "The week of the Laughlin River Run is the busiest week of the year, and if we're not ready then, we're not going to be ready at all."
In fact, Mother Road is taking part in an event with the Southern California Dealers Association in Bullhead City April 27 and 28 at Harley-Davidson Park, 1215 Highway 95.
"We'll have the demo truck there," Campbell said, adding that it's going to be a lot of fun.
Once Mother Road gets through the River Run, Campbell said everything else throughout the year feels easy.
Mother Road Harley-Davidson is located at 2501 Beverly Ave. and can be contacted at (928) 757-1166.