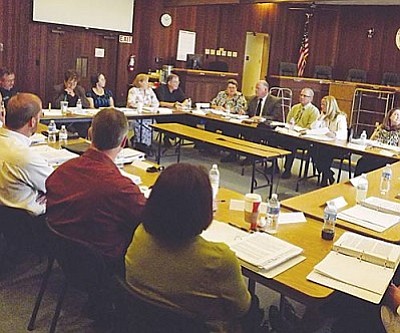 Originally Published: April 16, 2012 6 a.m.
KINGMAN - Budget work sessions can be awfully tedious. They take hours - sometimes days - to complete, and they're full of nit picking, bickering and clock watching.
For the Kingman City Council's annual budget work session, which was held Thursday, something was different. Maybe Council dealt with the tedium at its February strategy session. Maybe there just wasn't much room for discretion.
Either way, it took City Manager Jack Kramer about two hours to take Council through fiscal year 2012-2013's preliminary budget. Some changes were made, and several ideas were discussed. But for the most part, the budget - which Mayor John Salem said left little room for discretion - was accepted as presented.
Changes discussed will go into the budget, and the tentative budget will be presented to Council for approval during the second meeting in May.
Kramer showed Council that he expects the city's general fund balance to decrease to about $7.1 million by the end of the current fiscal year - about $1 million less than where it was last year. Kramer does not expect the balance to rebound as it has in past years because repair and replacement programs that have been delayed for years must be included in this budget, and the city will start the next fiscal year with a lower fund balance than in recent years.
The fund balance is what's left in the general fund at the end of each fiscal year.
Councilman Richard Anderson said the community may see this as a deficit budget, but added that it must be realized that the city is putting important things back into the community.
According to the preliminary budget document, the proposed operating budget for FY2013 is about $790,000 more than the FY2012 budget. However, it's still $6.2 million less than FY2008 budget. About $3.4 million of that decrease comes from there being 40 less city employees. Some position cuts came through reductions in force while others occurred through attrition. No reductions in force are budgeted for FY2013.
Between July and September, the city will be using $600,000 - half of the revenue raised by the bar and restaurant tax - to start chip-sealing portions of Kingman's ailing roads. Also, Kramer said the city plans to re-stripe Stockton Hill Road in the summer.
The other half of the bar and restaurant tax revenue will be going toward public safety and will buy, among other things, five police vehicles ($215,000), in-car cameras ($40,000) and security gates at the police station ($28,000). Also, the city will combine $40,130 of bar and restaurant tax revenue with the $384,870 coming from revenue raised by the 2-percent bed tax to replace a 13-year-old fire engine.
At the February budget strategy session, Council suggested finding a way to provide compensation awards to city employees for their work during tough economic times. City staff came up with a one-time longevity based payment.
It would work like this: Employees with less than 10 years experience would receive $500, employees with the city between 10-19 years would get $750 and employees with 20 or more years of experience would receive $1,000.
It must be noted that salary freezes have been in place since 2007 for most city employees. They've been in place since 2006 for department heads.
The longevity program would cost the city around $227,000, with about $135,000 coming out of the general fund, Kramer explained. This would be a one-time payment and will not compound in the future.
City employees have had their salaries cut by about 4 percent because of increased benefit compensation and the lack of raises, said Councilwoman Carole Young.
Councilwoman Erin Cochran said she loved the idea and added that city employees "need some sort of an 'at a boy" once in a while.
Councilman Richard Anderson agreed with most, but thought adding the program in should be contingent on how the rest of the budget shapes up.
Vice Mayor Robin Gordon told Anderson she disagreed with him.
"We've asked our employees to work harder with less," Gordon said, adding that Council needs to show its employees exactly how it feels. The program should not be contingent on the rest of the budget, Gordon said. The city can dip further into the fund balance if it has too, she added.
Councilwoman Janet Watson agreed with Gordon and said it's just a small token of Council's appreciation.
Kramer said he would put the program into the budget.
One of the other budget highlights focused on the city providing $51,000 while the Tourism Development Commission provides $43,000 for downtown intersection and sidewalk improvements in order to help tourists navigate the area better. The commission is also planning to provide a 20-percent local match of $70,000 for safety improvements for pedestrians crossing the street from the Powerhouse to Locomotive Park.
"This is going to be a big improvement for the area," Young said. "It's going to help tourists get back-and-forth."
Gordon agreed and added that it could even provide a spark to downtown property owners to make their places of business more aesthetically pleasing.