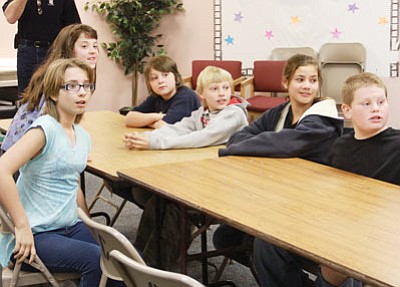 Originally Published: April 17, 2012 6:01 a.m.
Eighteen 5th-grade students at Cerbat Elementary School spent the last 11 weeks coming to school every Saturday for a special two-hour class geared towards improving their AIMS scores.
Each student was chosen because they fell just below passing scores for their tests, and with a little extra tutoring they might pass.
At least 80 percent of the students went up a level on their scores as a result of these classes and one girl went up two levels.
As a reward, on their final day of class, the students were treated to a surprise party with ice cream and cupcakes.
Several people helped make this success possible, including teachers Matt Wilson and Stacy Durst, who came up with the idea and tutored the students, and student volunteers Kaylee Bond, Keegen Geeser and Jeffery Morgan.
Principal Dawn McGill helped provide supplies. The teachers wished to also thank the parents for their support.