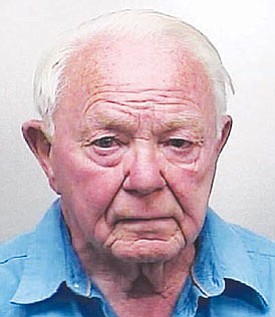 Originally Published: April 18, 2012 6:01 a.m.
KINGMAN - No bond was set Tuesday in the case of Don Van Brunt but the former political leader was ordered to wear an electronic monitoring bracelet after pleading not guilty to child molestation charges in court.
Van Brunt, 82, is charged with sexual conduct with a minor and three counts of child molestation in connection with complaints made by his now grown grandsons. The complaints were lodged last fall after one of the grandsons contacted authorities where he lives in California. Those authorities in turn contacted authorities here and an investigation was launched by a detective with the Kingman Police Department and the County Attorney's Office.
The men allege that the abuse took place when one was between the ages of 9 and 10 while the other alleged that his abuse started when he was around 6 years old. The brothers told police that they didn't know the other had been victimized until last fall, when one asked the other.
Included in Van Brunt's court file is a letter written to investigators by his attorney, Michael Bailey out of Scottsdale. Bailey said Van Brunt denies the charges and said that allegations made by the grandsons are the result of "financial posturing and unmet demands of members of the (withheld) family at or about the time this report seems to have been made."
Van Brunt has been the subject of rumors surrounding alleged abuse since at least 2000, when a man sentenced for child molestation said he had been molested as a youth by his Boy Scout troop leader, Van Brunt. No charges were ever filed because the County Attorney's Office said the statute of limitations on the accusations had run out. The law was changed the next year, lifting the limitations on child molestation charges.
Van Brunt is the former executive director of the Mohave County Economic Development Authority (MCEDA), which lost county funding a year after Van Brunt's 1982 conviction for counterfeiting was made public in 2000. Van Brunt had pleaded no contest in that case, which involved the production of $4 million in counterfeit currency, and was sentenced to three years probation.
Van Brunt is allowed to travel to and from the states of Nevada, Montana and California under terms of his release. His attorney objected to the electronic monitoring condition but after several minutes of discussion, Judge Derek Carlisle said he had no choice but to impose it given that it is a requirement when a suspect is charged with a sexual crime against a child.