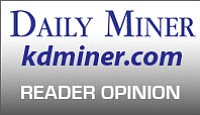 Originally Published: April 18, 2012 6:01 a.m.
I am totally confused.
The article on page 3 of the April 10 paper shows a picture of a pony's feet that had gone untrimmed and uncared for, causing much suffering and pain for the animal. To me it's an example of total neglect for which there is no excuse.
Mohave County Sheriff's Office and the Arizona Department of Agriculture along with MCSO Lieutenant Barbara Larson all determined there was no criminal neglect and no charges were filed. What kind of message are they sending out to the public? You can have a horse or pony and never take care of its feet? It's one of the worst ways for a horse or pony to suffer, having laminitis or any other painful feet problems.
I just don't understand why they felt it was not a reason to prosecute the owner.
We need new people in their positions to do the job right. Larson, Bridges and Bartmus need to step aside before other animals suffer because nothing will be done to the abusive owners.
Debra Carr
Golden Valley