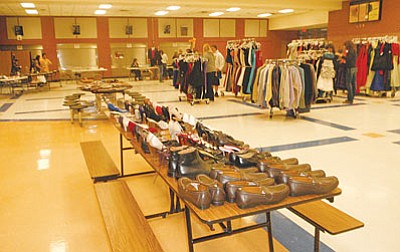 Originally Published: April 19, 2012 6 a.m.
KINGMAN - A partnership between Kingman High's Hispanic Student Union and the Venture Club helped create last Saturday's Prom Fair at the school.
In the last couple months, KHS Student Support Services Coordinator Girlie Forman submitted letters to the Miner asking the community to help Families in Transition students and financially disadvantaged juniors and seniors enjoy the prom experience by donating items to the Prom Fair.
Students within Families in Transition are, among other things, often homeless, living in a shelter, couch surfing or staying with extended family.
Forman's request was answered.
Jennifer Jackson, the school's "S" Club's advisor, said there was an unbelievable flow of donations. About 40 donors - individuals and organizations - donated about $3,000 worth of prom-related material, she said.
The "S" Club is the high school version of the Soroptimists, which is also associated with the Venture Club.
There were dozens of racks of dresses, Jackson said. The donations clothed 70 prom goers from their heads to their toes, she added. Some students were unable to attend the Prom Fair, but many of them received packets containing tickets for free dry cleaning and tuxedo rentals. About 100 meals and prom tickets for 120 students are being provided as well, Jackson said.
"Their prom experience is pretty much taken care of," she said.