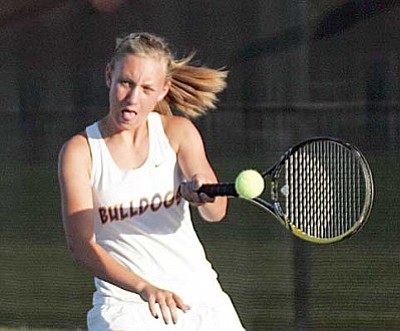 Originally Published: April 20, 2012 6:01 a.m.
KINGMAN - At the beginning of the year, Kingman High girls tennis coach Traci Rosenbach made a bet with her team that if the girls went 10-3 on the year she would allow them to dump water over her.
After Wednesday's 6-4 win over Prescott, Rosenbach upheld her end of the bargain as the team proceeded to dump a cooler of ice water over her.
"Hopefully that wasn't their only motivation for winning," Rosenbach said.
While the win was a culmination of a bet, it also stretched the Lady Bulldogs' winning streak to eight matches clinch a spot in the State Division I Team Tournament. Something that may not have been thought possible at the start of the year considering the Lady Bulldogs were a young team that finished the 2011 season at 3-11.
"Last year we were just getting to know each other and now we are close," said Senior Jill Collins, who improved to 9-4 with a 6-2, 6-1 win over Kirsi Eby. "We are always together, practicing together, traveling together and I don't think I've ever been on a closer team and this is an individual sport."
After coming back from spring break, KHS fell to Lake Havasu on March 27, but rebounded with a win over Phoenix Barry Goldwater on March 29. But according to Rosenbach, she feels the turning point of the season occurred when the Lady Bulldogs knocked off previously undefeated Flagstaff March 30 for their second of eight straight wins.
"I knew we were going to do well this year," Rosenbach said. "I think (Flagstaff) was a turning point for us, and they realized how good they are and it just pushed them forward to win the rest."
KHS will have a week off before starting the state team tournament. In the meantime, the doubles pair of Natalie Casson and Gabby Huffer as well as Kendra Wilson will be competing in this weekend's Division I State Singles and Doubles Tournament.
Casson and Huffer improved to 13-3 Wednesday, defeating Elle Forste and Eby 8-2. Casson improved to 11-2 as the Lady Bulldogs' No. 1 singles player with a 6-2, 6-1 win over Aralige Carner while Huffer finished the regular season undefeated at 12-0 after winning her match 6-1, 6-1 over Nora Browning.
"They are ready. If they play the way they are able to play, they will beat anybody," Rosenbach said of Casson and Huffer. "I hope they come out on fire and play well together. Which I think they will."
Casson and Huffer will play at 1:30 p.m. today at the Gene Autry Tennis Center in Mesa. Wilson will begin her singles competition at 10:30 a.m. against Mesa Mountain View's Hanna Nelson.
This year, the Arizona Interscholastic Association limited the tournament to just one doubles team and one singles player per team, which left some coaches according to Rosenbach, upset.
"Everyone made it to state before, and it was ridiculous because you play so many and then you get your No. 6's that were a little weaker and it just didn't feel like state," Rosenbach said. "I don't know if I'm really happy with it because I have a lot of other good players that would like to go, but I understand the reasoning, but I'm not thrilled about it. Most coaches aren't, they've been upset about it, so it may change again next year."
Regardless of what is decided about next year's state individual tournament, those KHS players not selected to go this weekend will be cheering on those who will be going while basking in the success of the team's accomplishments this year, knowing they still get one last chance to compete as a team.
"It is a great way to end my senior year," Collins said. "I'm happy with the way things are ending, but if we do good at state then the more the better."