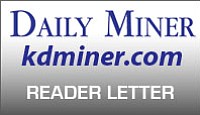 Originally Published: April 20, 2012 6:01 a.m.
Parents, vote for your children in this 2012 election. Do you want our daughters to re-fight the battles our mothers fought in the last century or do you want women to be held equal in pay for equal work, able to decide what constitutes rape for themselves, able to afford premiums for healthcare - including birth control, capable of determining their own lives concerning dangerous or forced pregnancies?
Do you want our sons and daughters having to serve in constant wars as their only jobs of decent wages and benefits and ability to afford college, having, after marriage, to both work at jobs that barely keep their family out of poverty, not having healthcare coverage for themselves or their children, having lost Social Security and Medicare? Do you want our children and their children to breath poisonous air, have no clean water left to drink, still depending on past centuries' dirty fossil fuels? Do you want our children to be the new serfs to mega wealthy rulers with no vote in their government without the riches to support their votes?
Parents, please vote for progress; please do not vote to take us back to the bad old days of hatred, bigotry, racism and two classes of citizens - fat cat rulers and their servants. Vote for the middle class and for a great country of opportunity for our children.
Danny Baker
Kingman