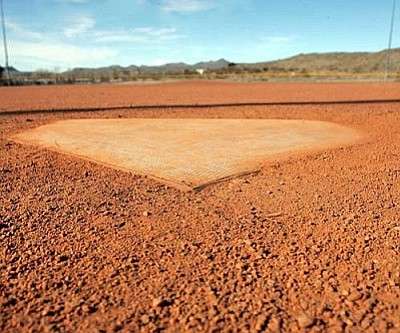 Originally Published: April 22, 2012 6 a.m.
KINGMAN - Every year John Tuepker gets a chuckle from the city of Kingman's Parks and Recreation Department.
Tuepker has been coaching the Parks and Recreation Department's third- and fourth-grade, and fifth- and sixth-grade basketball teams for a number of years, and every year at the start of the season he has to get fingerprinted, despite the fact that the place where he works is also the same place the city sends his fingerprints.
"It makes me chuckle, because I put my department work address down and it's the same address where they send the fingerprints to," said Tuepker, who works for the Arizona Department of Public Safety as a highway patrolman.
"It's kind of funny, but I'm glad that they are very diligent," he said. "Hopefully if there are issues, they can weed those out before somebody is around kids that shouldn't be."
As reports surfaced last November of sexual abuse by former Pennsylvania State University assistant football coach Jerry Sandusky, and reports that Syracuse University assistant men's basketball coach Bernie Fine allegedly abused two ball boys 25 years ago, the questions on every parent's mind were "Are my kids safe?" and "What is being done to ensure my child's safety when competing in sports?"
Two valid questions and two concerns that haven't fallen on deaf ears to local youth sports organizations, including the Kingman Youth Football League, Kingman North Little League, Northern Arizona Soccer League and the Parks and Recreation Department.
Hitting Home
In order to be a volunteer coach for the Parks and Recreation Department, a person must go through an extensive FBI background check and be fingerprinted, along with submitting an application, which includes work experience for the past five years and a drug and alcohol screening.
"We do this in addition to the criminal background check because we are looking for credibility," said Jackie Walker, human resources director for the city of Kingman.
Walker said that a lot of private employers or leagues such as KYFL and Kingman North Little League will do a background check using a third-party vender who will trace a Social Security number or employment history, then go back and look up records in cities and counties where that Social Security number popped up.
Since the city is a public sector employer, they are able to do an extensive FBI check for $24 where as the cost for a private employer would be much higher.
"We can get a national search without having to pay by county and by city," Walker said. "Things can fall through the cracks, and we are fortunate that we are able to get it in one big swoop."
None of the local leagues have ever had a problem of abuse among children by its coaches. Nevertheless, it's something that has been taken seriously long before the name Jerry Sandusky ever appeared on a newspaper's front page.
"Anybody who has contact with the kids must have a background check. It's from Williamsport," said Kingman North Little League President Lee Pitts, referring to the Little League Headquarters in Williamsport, Pa. "We do background checks not just on our coaches but all of our volunteers. There is no contact with kids unless you've had a background check and you've been approved."
Last year, Kingman North Little League fielded 22 teams consisting of 322 players with the biggest division coming from tee-ball. Pitts hasn't heard of any concerns or questions regarding Little League's policies, but feels there could be some as the season rolls on.
"We might have some questions regarding that, but we will give the same thing, everyone goes through a background check," Pitts said. "A lot of our volunteers are returning volunteers, and they have served with us for several years. We normally get new coaches around the tee-ball league, but a lot of them are parents or people that have a connection with us."
As for changes that could result in light of the Penn State scandal, that's something that would be addressed later, but in the meantime, the focus is on background checks.
"If (Williamsport) wants us to do more, we will definitely do more," Pitts said. "If we feel there is an issue that arises within our league, we definitely will look at that."
Proper Protocol
While each local league including both high schools have different protocols, all agree that involving local law enforcement is a must when dealing with such allegations
Former Penn State football coach Joe Paterno was criticized after he failed to report Sandusky, who was eventually indicted on 40 counts of child molestation dating back from 1994 to 2009, to law enforcement.
"That's the first thing you do, is get the law involved," said KYFL President Ray Smith.
KYFL has six board members that go to the practices to make sure everything is running smoothly, not to mention the numerous parents that are always at practice, he added.
"There are not very many opportunities for (coaches) to be alone with the kids," Smith said. "If you are in coaching or teaching, you have parents who rely on you to keep their children safe, and that's the utmost responsibly for everyone."
For Kingman North Little League the protocol is the same as KYFL, the person accused of any wrongdoing would be brought to the board.
The same is true for Northern Arizona Soccer League. The accused would have to face the league's disciplinary and review board, which is made up of two parents who are not affiliated with the team or division, as well as two board members not affiliated along with the vice president.
"We haven't had a case like that, but that would be the first step we would do," said Tuepker, who also serves as president of NASL. "If it was an allegation (of) physical assault, we would definitely turn that over to the authorities immediately. But if it were an allegation (that a coach touched someone improperly), we would sit down as a board and hear both sides. The way those hearings are held is there is nobody in the room but us. In the Sandusky thing, if it was something that extreme we would go ahead and alert the authorities and turn that over to them as well."
According to Walker, if such an incident occurred within the Parks and Recreation Department, a chain of command structure would be followed that is similar to what happened at Penn State.
"It would probably be brought through the department as well as myself, risk management, the city attorney and the city manager," Walker said. "If a criminal conduct (occurred), law enforcement would be involved. Law enforcement would take their side and continue forward, and we would take the administrative side and move forward. Sometimes the situation won't bring criminal charges, but you still need to deal with it administratively."
Safety Within Our Schools
While Walker wasn't sure if there is a state law requiring the city to report such behavior, that's not the case with schools. Arizona has a law requiring that educators report suspected cases of child abuse to law enforcement.
"The person who comes by the knowledge isn't obligated to do any investigation on his or her own. They are obligated to report it to an agency such as law enforcement and those agencies are bound to investigate," Kingman High Athletic Director Tim Casson said.
According to the law, if a person fails to report child abuse or neglect, a person could be charged with a class 1 misdemeanor or if the abuse or neglect is serious enough, the person could be charged with a class 6 felony.
There would also be school consequences, Casson said, including termination.
"Our process is when he or she reports it to me, then they could report it directly to law enforcement or be present when I'm making the report, and that's typically what we do," Casson said. "We will accompany the teacher when that report is being made. That way there is evidence from a couple people that it was reported properly."
Kingman Academy High School has a similar approach to Kingman High. If such an incident were to occur at the school the athletic director, principal, assistant principal as well as the district office would be involved.
"You have to start there, but if I had concrete 100 percent positive evidence that it did happen, I wouldn't leave it there, I would follow it up," KAHS Athletic Director Shawn Bryne said.
Both schools do extensive background checks on coaches, which include a fingerprint card that has to be renewed every seven years. But in the case of KHS, the Arizona Interscholastic Association requires that head varsity coaches must hold either a teaching certificate, an Arizona coaching certificate or take some coaching courses.
"The easiest and simplest way is for them to be certified teachers. That can be a substitute certificate and that forces them to have a fingerprint card," Casson said.
Protecting Our Children
While the Penn State scandal has slipped to the back pages of newspapers over the last few months, parents still question the safety of their children who participate in sports organizations.
Has the Penn State scandal shed new light on the issue of child sex abuse? Tuepker doesn't think so. He is quick to point out that these kinds of things have been going on for quite a while, most notably the Catholic priest scandal.
"It's new that this were college coaches," Tuepker said. "But I don't see it being new to the world. How many times do we see on the news of a teacher in the Phoenix area molesting his students."
While all the local leagues and high schools do conduct extensive background checks on their coaches and volunteers before allowing them to have contact with kids, background checks aren't a guarantee. Tuepker pointed out that Sandusky did not have a record.
"I think a lot of times we think we live in such a small community, and nothing like that can happen here," Pitts said. "In reality it could, so we do everything possible to make sure that it doesn't."
More like this story