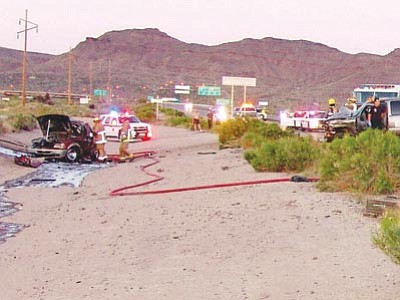 Originally Published: April 24, 2012 6:01 a.m.
A 3-year-old toddler and a 19-year-old man were killed in a two-car accident on Highway 68 in Golden Valley Sunday.
Authorities said they responded to the scene at milepost 26 around 7 p.m. after calls came pouring in from witnesses. According to Department of Public Safety Spokesman Bart Graves, a 1998 Ford pickup was eastbound on 68 when the driver, Dylan Ray Tyrell Bielke, of Kingman, lost control and went sideways into the adjacent lane.
The truck was then struck in its side by a second vehicle that was hauling a trailer, sending the truck off the road before erupting in flames.
Both Bielke and a child in a car seat in the backseat were believed to have been killed by the impact of the crash. The child is identified as Colton Hagemire, of Bullhead City.
Golden Valley Fire Chief Tom O'Donohue said the 58-year-old driver of the second vehicle was wearing a seatbelt and suffered moderate injuries.