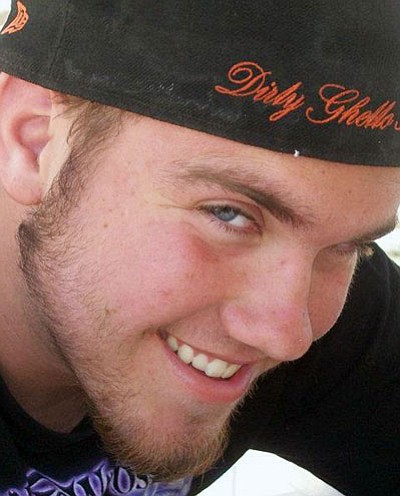 Originally Published: April 26, 2012 6:01 a.m.
The Lord took two angels from our community of Kingman, Ariz., on Sunday, April 22, 2012, in a tragic car accident: Dylan Ray Tyrell Bielke, age 19, and Colton Malone Hagemyer Bielke, age 3.
Dylan was born Sept. 16, 1992, in Needles, Calif., to Kelly Bielke and Dennis Ortega. Colton was born on Nov. 18, 2008, in Bullhead City, Ariz., to Kelly Bielke and R. Patrick Hagemyer. Dylan and Colton have lived in Mohave County their entire lives and were loved by many people, touching the heart of all who knew them.
They are survived by their mother, Kelly Bielke, and stepfather, Leland Stevens; their brothers, Brimli, Logan and Nicolas; their sisters, Torren and Lynsey of Kingman; their aunt and uncle, Tiffany and Cody Sherwood, and cousins Trinity, Domnik, Austin and Trevin of Nixa, Mo.; their uncle, Jeremy Sherwood of Westfield, Mass.; aunt and uncle, Kathy and Tom MacNamara of Tucson, Ariz.; uncle, Brian Jenson of New York, N.Y.; aunt and uncle, Amanda and Bret Maxwell of Riverside, Calif.
Dylan is survived by his son, Owan Konor Felix, age 1, and Amanda Felix of Mohave Valley, Ariz.; and his fiancée, Sonya Louise Long of Kingman; his brother, Lance Ortega of Bullhead City; Elizabeth Smith of Bullhead City; and his best friend, Matthew Brady of Kingman.
The boys are survived by their grandparents and great-grandparents: (Misty Summers), Kim and Andy Blair of Kingman; Mike and Cheryl Bielke of Needles; Roy and Cheryl Hagemyer of Mohave Valley; Shirley Blair of Tucson; Charles Ortega of La Habra, Calif.; Bob and Bev Dowding of Mohave Valley and Dottie and Gene Strobel of Chloride, Ariz.; Ann Stern of Tucson; Milldred Killion of Bullhead City; and Gertidue Stevens of Yucca Valley, Ariz.
Services will be held at 3 p.m. Sunday, April 29, at Praise Chapel, 419 Harrison St., Kingman.
Donations can be made at www.dylanandcolton.bbnow.org or by contacting Journey Church at (928) 757-4520.