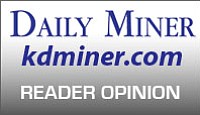 Originally Published: August 2, 2012 6:01 a.m.
On June 11 of this year, the Miner printed one of my letters entitled "Romney: He's one of Them." Within that letter I stated, "Let's not forget that the presidency consists of much more than just the economy. Close your eyes and picture Mitt Romney talking to Russian or Chinese leaders. Can you see it? Can you feel the discomfort and tension of this scenario?"
Romney just proved my point.
On Mitt Romney's first day of his visit to London, which should have been the easiest leg of his trip, he managed to insult Conservative Prime Minister David Cameron, the Olympic Management, the Mayor of London, and he obviously couldn't remember the name of the head of the opposition Labour party, Ed Miliband, so called him "Mr. Leader."
British newspapers slammed Romney. British politicians David Cameron and Boris Johnson took umbrage at Romney's remarks and ridiculed Romney in front of tens of thousands of people, respectively.
Romney also mentioned that he met with the head of Britain's MI6 Intelligence Agency - something that should have been kept secret. No one is to acknowledge the very secretive MI6 agency.
All of Great Britain is outraged, with some calling Romney "worse than Sarah Palin in terms of basic diplomacy" and "a total car wreck."
Everyone in the U.S. should be embarrassed that such an inept Mitt Romney went to London as a United States presidential candidate and totally insulted every person there.
If he can cause an international incident in just one day to an overly friendly ally, I can't even imagine how much damage he would do when visiting not-so-friendly countries.
Lori Gabriel-Dane
Kingman
More like this story