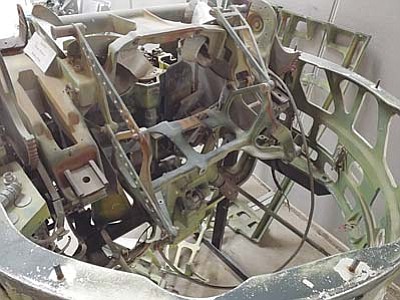 Originally Published: August 2, 2012 6:01 a.m.
Seventy years ago, the U.S. Army activated the Flexible Gunnery School at Kingman.
On Saturday, the volunteers behind the Kingman Army Airfield Museum will host a two-hour open house to commemorate the base/museum's anniversary.
The Kingman Airport and the surrounding industrial park was a base dedicated to training servicemen to operate .50-caliber machine guns on B-17s during World War II.
Museum Curator Rob Chilcoat said 36,000 people graduated from the school before the end of the war in 1945.
Those 36,000 people learned to hit moving targets with .50-caliber machine guns, but that's not where their training started.
Students started with BB guns, graduated to shooting skeet with shotguns, went on to shooting moving targets from moving vehicles with .30-calibur M-1s before they even touched the .50-calibers, said Kingman Army Airfield Museum President Bob Loose.
It was a six-week course, with two weeks of classroom work dispersed throughout, two weeks of on-the-ground training and two weeks of in-the-air training, Chilcoat said.
In order to graduate, students needed to be able to disassemble and assemble their weapons blindfolded. In the middle of an air battle, there was no telling what the sight conditions would be, and if that gun jammed the gunner needed to be able to get it working again no matter how well he could see, Loose said.
"Working blindfolded taught (students) all about the guns," he said.
Also important for the students was learning how to not only hit a moving target, but to hit it from a moving plane.
"They had to learn how to lead their shots," Chilcoat said.
Every 10th round fired by the .50-caliber machine guns was a tracer shot, which helped gunners keep targets in their sights, Loose said.
Mary Ellen Montgomery started the museum in 1980 because she wanted to honor the soldiers who fought in WWII. Chilcoat, Loose and the volunteers who keep the museum intact share her vision. It's full of antique planes, various types of equipment and countless pieces of WWII memorabilia.
"When Mary Ellen started the museum, they had no money," Loose said. "And that has not changed. We still have no money."
Though they rent the building from the city, everything from remodeling to daily upkeep falls on the volunteers' shoulders. That hasn't stopped them from continuing to upgrade.
For instance, the museum volunteers saved the $5 donations people pay to visit the museum and were able to put it toward a $50,000 roof last year.
This commitment shows how important remembering the men who fought in WWII is to the people who run the museum.
When speaking of the gunners who trained in Kingman, Chilcoat said, "No matter how many missions you got through, your life was always on the line."