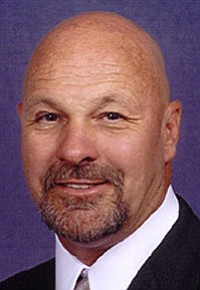 Originally Published: August 9, 2012 6 a.m.
A new campaign ad for District 3 Supervisor Buster Johnson calls him a "hero of the taxpayer" for his record on taxes, but he refused to discuss the specifics of his claim - and his record is less cut-and-dried than the ad claims.
The ad states that Johnson "stopped a property tax increase," "stopped $5 million in new sales taxes," "authored two bills to cut property taxes," and "opposed the health district tax."
It's unclear which tax increases, legislation and health district are being referred to from the 15 years Johnson has served on the Board, and a review of official records is only partially helpful.
Johnson did not return phone calls on Aug. 3 and declined to comment after Monday's Board of Supervisors meeting, telling a reporter that his reason was that she talked to people who worked for other candidates.
"I don't think that's a legitimate question," he said. "I don't think that question is coming from you."
According to Board of Supervisors meeting minutes, Johnson did vote to lower the county's primary property and secondary tax rates in 2004, 2007, 2008, 2009 and 2010. During that time period, the county's property tax rates fell from $1.75 per $100 of assessed value to $1.67 in 2006 to $1.26 in 2009.
This was when the market values of homes were going down but assessed values were going up. Assessed property values lag by nearly a year and half behind changes in the market values. This means the county was essentially taking in the same amount of revenue or more, even though they were lowering the tax rate.
Johnson also voted for a property tax rate increase - from $1.26 to $1.46 in 2011, and to $1.81 in 2012. He also voted for a tax increase in 2001.
The records also show that Johnson asked for a reduction in the county's secondary property taxes in 2009. Secondary property tax rates are used to fund the county library, TV district and water districts.
The county's website only contains Board of Supervisors minutes from 2002 to 2012.
The ad also mentions that Johnson "stopped $5 million in new sales taxes."
According to former County Supervisor Pete Byers, the Board discussed the idea of a $5 million tax in 2003 or 2004, but the issue never came to a formal proposal because, "Buster raised hell about it."
According to Miner archives, it could also refer to a 1997 half-a-cent county sales tax that or a July 2001 vote on property tax and sales tax increases that would have raised more than $4 million in revenue to cover a shortfall in the county budget.
Johnson voted against the sales tax but for the property tax increase, according to the Miner's archives.
The archives also show that Johnson voted for a sales tax increase in July 1999 to repair county buildings.
Johnson speaks with members of the Arizona Legislature on a frequent basis when it is in session, but it's not clear what legislation he pushed.
As for the blocked health district, Byers recalled it as something the Board discussed but never pursued.
The ad also touts Americans for Prosperity's endorsement of him as a "hero of the taxpayer." Americans for Prosperity is an anti-tax organization that grades local government officials on their tax policies on an annual basis.
According to its online archives, Johnson was named a hero of the taxpayer in 2008. In 2009, the organization labeled his tax policies "not bad" and in 2010 he was labeled "a friend of the taxpayer."
Americans for Prosperity's online grades are only searchable to 2008.