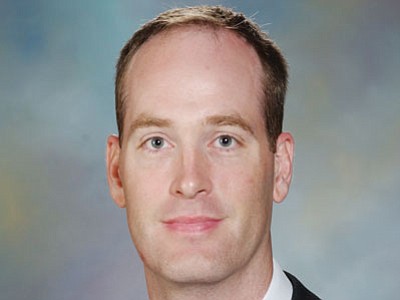 Originally Published: August 14, 2012 6:01 a.m.
Dr. Douglas Brandt will discuss "Varicose Veins: Exciting New Treatment Options" when Kingman Regional Medical Center hosts Lunch & Learn at noon Wednesday in the Del E. Webb Wellness Center, 1719 E. Beverly.
Lunch & Learn seminars are free. Participants bring their own lunch and KRMC provides a beverage and dessert. To ensure enough seating and desserts, please contact KRMC's Public Relations department at 681-8514 to make a reservation.
As a diagnostic radiologist, Dr. Brandt is an expert in reading and interpreting medical images to detect and analyze disease or injury in internal organs, tissues, and bone. Specifically, he is skilled in interpreting X-rays, mammograms, ultrasounds, MRI scans, CT scans, and nuclear medicine scans, including PET. He is also skilled in image-guided medical procedures such as inserting catheters in veins, draining abscesses and performing biopsies.
Brandt attended Baylor University where he earned his Bachelor of Science degree Summa Cum Laude. While there, he was team captain and four-year starter of the NCAA Division I Baylor Bears basketball team.
He was named Academic All-American three separate years. After graduating, he played professional basketball for the Houston Rockets and for teams in Europe and Australia.
After returning to the U.S, he received his medical degree from the University of Texas Southwestern Medical School in Dallas, Texas. His surgical internship was at Methodist Dallas Medical Center.