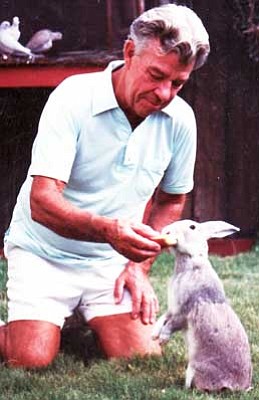 Originally Published: August 17, 2012 6:01 a.m.
Howard Benjamin Paul Zellmer, husband, father and grandfather, died Monday evening, Aug. 6, 2012. Howard was a great man. He was fun loving, always upbeat, humorous and friendly. He never met a stranger, was liked by anyone who met him and will be greatly missed by all. Howard was born in Belleville, Ill., on Oct. 2, 1918, to Adolph and Eleanora Zellmer. He spent his childhood in Belleville, attending Zion Lutheran School with his seven siblings.
In 1939, at the age of 17, Howard joined the U.S. Navy and served most of his military years on the USS Maryland. Howard's battleship was docked at Pearl Harbor on Dec. 7, 1941. He was one of the lucky ones who survived that Day of Infamy. Later, he was transferred to a minesweeper before being honorably discharged. Howard loved the ocean and would always tell his family Navy stories. During World War II all five of Howard's brothers served in the military. His father proudly hung six stars in the front window of their home on Michigan Avenue - a record for the most stars in Belleville.
After eight years in the U.S. Navy, Howard returned home to Belleville where he became a carpenter like his father, and also served as a volunteer fire fighter. This is where he would meet his wife of 62 years, Harlene (Lorton) Zellmer. Married on June 19, 1949, they lived in his hometown where they were blessed with two children, Dan and Kay. In 1959, they decided to move out west. They settled down in Kingman in 1961, and would make this their permanent home.
Howard worked as a carpenter all around Mohave County and retired from the Kingman School District in 1980. During retirement Howard kept very busy with his grandchildren. He loved to spend time with his family. He also loved baseball and made sure to get in one more game on his final day; unfortunately, the Diamondbacks lost 4-0. Howard was known for always having a big smile on his face and for having the brightest blue eyes you have ever seen.
He was preceded in death by his wife, Harlene Zellmer; his parents, Adolph and Eleanora; and five brothers, Russel, Wilbert, Edwin, Emil and Elmer.
Howard is survived by his two sisters, Ruth Kraft and Alice Coon of Illinois; his two children, Dan Zellmer and Kay Hayward; five grandchildren, Jamie Scott Stehly (David), Brooke Hinman, Nick Zellmer, Sierra Zellmer and Jaxen Zellmer; three great-grandchildren, Devin Hinman, June Stehly and Paige Stehly; our dear friend, Deb Green; and his faithful dog, Bitsy.
Our dearest Poppy, you will be forever in our hearts.