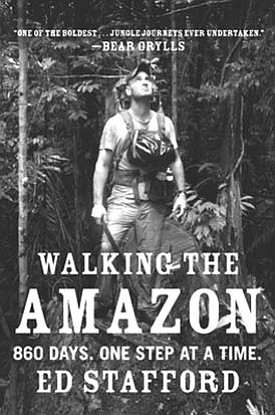 Originally Published: August 19, 2012 6 a.m.
Walking the Amazon: 860 Days, One Step at a Time, by Ed Stafford; 978-0-452-29826-2; Softcover; 320 Pages; $16; Publication Date: Aug. 28, 2012; History/Adventure by Plume, a member of the U.S. Penguin Group.
Goal setting and accomplishment of that goal is what Ed Stafford achieved when he walked the Amazon River from its start in the Peruvian Andes to its conclusion in the Atlantic Ocean. The story is chronicled in his book "Walking the Amazon: 860 Days, One Step at a Time." Stafford's journey and the story relating it is one of the most fascinating adventures of modern day. Just when you think you have heard it all, explored every nook and cranny of this world, and used every means possible to tell the world about it, up pops this new Guinness Book of Records exploit.
Ed Stafford conceived of this idea while living in England. He diligently researched what he would need to make the trip and gathered all the elements to embark on his trek in April 2008. He convinced one friend to join him, but three months into the excursion his friend returned home, leaving Ed to continue on his own.
The story he relates tells of his hiring of many guides who knew the villages, rivers, and mountains that he would have to traverse. One exceptional guide named Cho traveled with him for two years and they became permanent friends.
There is much humor in this presentation. Realistic encounters with hunger, thirst and jungle dangers hold your attention throughout. At one point, for example, a large anaconda was blocking the path of the expedition that by this time had grown to five people. Ed took several photographs and video of the snake. When he had finished, one of the native guides asked him if he had enough pictures. After telling him yes, the man proceeded to kill the snake with his machete; he announced that he was going to feed it to his dogs!
One of the intriguing aspects of this journey is the use of modern technology. Ed Stafford was able to be in instant contact with the world outside of the Amazon Jungle. He had cell phones, computer links internet access.
Besides this book, Stafford made a two-part documentary series for the Discovery Channel. He is currently planning a new project for them.
This is well worth reading and is a five-star book. After reading, see the videos available free at https://vimeo.com/23795713. This link is for an interview with Stafford, but with a little browsing, you can find 111 videos of this amazing Amazon adventurer!