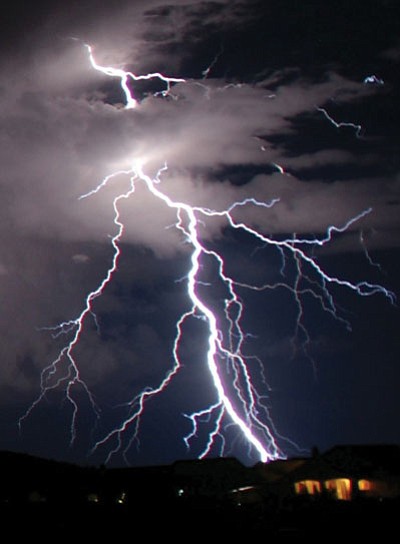 Originally Published: August 22, 2012 6 a.m.
Trees were uprooted and power and cable lines downed by a powerful storm Monday night that included a nearly two-hour lightning show for residents.
Area officials said most of the damage from the storm was done by flooded washes covering roads.
The Holy Moses wash three miles south of Kingman recorded 348 cubic feet of rushing water per second around 9 p.m., according to the Mohave County ALERT Flood Warning system.
The Lazy Y U station six miles southeast of Kingman recorded the most rainfall, with almost 2½ inches of rain during a 90-minute period between 6:30 p.m. and 8 p.m.
The National Weather Service's forecast said thunderstorms are likely today and tonight, with chances diminishing Thursday and Friday. Highs in the 80s and lows in the 70s are expected.