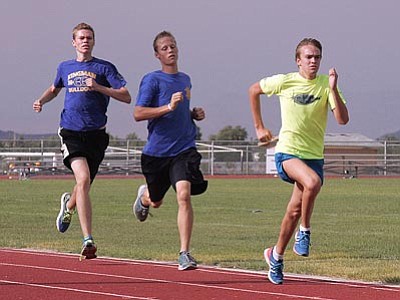 Originally Published: August 23, 2012 6:01 a.m.
Every fall for the past 20 years there has been one constant around Kingman High school - Anne Bathauer coaching cross country.
But after losing her husband to cancer in March, some wondered if she would return to coaching.
"People were like, 'Are you going to come back after what you've been through?'" Bathauer said. "I've done this for 20 years and I'm not going to give up on the group of kids that I have. Yes, I have to manage my time, but I have lots of family members and community members to help me."
She treats the 27 runners out for the Bulldogs cross country team as if they were her own kids, making sure they see the trainer if they need to while yelling at them from across the track in a typical mom's voice: "Don't get hurt."
It's these additional members of the family that will keep her busy as KHS prepares to open the season at The Peaks Invitational on Sept. 1 in Flagstaff.
"It takes my mind off a lot of things, but this is where I'm supposed to be," Bathauer said. "This is what I've always done."
Over the last two decades, Bathauer has seen her participation numbers go up and down. Sometimes she has seen more boys than girls, or more girls than boys as is the case this year. But while the girls may outnumber the boys, the one common goal for KHS is to get back to the state meet, which they failed to reach last season for the first time in 18 years.
"In 5A Division I we know what it takes," Bathauer said. "Everyone has to have a great day. As far as being trained, we are running up hills, doing speed training. We are doing everything to make our athletes ready for the sectional meet. That's their goal. We don't want to have a repeat of last year."
Last year at the sectional meet, the Bulldogs were hampered by injuries and illness by some their top runners including, Paige Cardiff, who collapsed just short of the finish line.
This year Bathauer hopes that will be a different story as Cardiff and Patrick Webb come into the season in excellent shape after attending running camps over the summer.
"In order to run with the 5A Division I you have to be in shape, and she is at a level that I've never seen her at," Bathauer said of Cardiff. "I think she is going to have an excellent opportunity to excel in cross country."
Joining Cardiff will be Olivia Anderson, Amanda Williams, Alexis Bathauer, Mindy Bardin, Hanna Olney and Haley Moore along with others who could compete for spots on the varsity team.
Joining Webb will be Preston Hammond, Ethan Swenson, Shaun Wooten and Tanner Cardiff. All will be looked at to help lead the boys team.
"They are a well disciplined team," Bathauer said. "For many of them this is their fourth year. Most of the kids that are under me know what my expectations are."
While a lot has happened for Bathauer over the last year, there is still one thing that has never changed at the start of the cross country season for the past 20 years.
"I'm excited every season that I have," she said. "I tell my kids that we are running with a purpose this season and that purpose is that every minute matters.
"Every opportunity for learning matters, and we are here to make you better people, better community members. I want them to have a great experience in cross country."