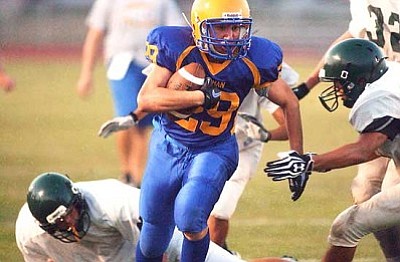 Originally Published: August 24, 2012 6:01 a.m.
KINGMAN - If Kingman High appears to be sluggish tonight when they open the season at home with Mesa Skyline, don't blame the coaches or the players.
Blame Mother Nature.
Since KHS started practicing July 30, the Bulldogs have had only one full practice. The rest have been limited by heat or lightning.
"It's rough, because we don't get as much time as we would like to put in," said KHS football coach Rob York. "But there is nothing you can do about it."
In May, the Arizona Interscholastic Association approved a measure that called for educating athletes and coaches about recognizing and managing heat illness, guidelines for proper hydration and the risks associated with exercising in hot, humid conditions.
The measure also called for a gradual acclimatization over a 14-day period and implementing practice/competition modifications according to the temperature and relative humidity.
"It is the position of the AIA that prevention is the best way to avoid exertional heat stroke," the AIA said in documents explaining the measure.
In years past, KHS trainer Jenny Harpest would use a wet bulb thermometer to measure the heat index and determine if it was safe to practice outdoors. If not, the team would find other options.
"Although the guidelines are new this year, it did not change much of what we do here at the high school," Harpest said. "The acclimatization period did affect the ability to have two practices a day as in the past, but that has been our only major change."
While Harpest and York understand that athlete safety is the highest priority, it does create a not-so-ideal situation for the Bulldogs heading into the first game - especially since York wanted to capitalize on the momentum generated from last week's scrimmage.
"It messes up our rhythm," York said. "It makes us throw stuff into practice during the week that we normally don't do. But there is nothing we can do about it.
"We have to get in what we can get in. Either way, we will get something in, even if we have to cancel and do a walk-through in the gym."
KHS will look to avenge last year's 52-14 season opening loss to Skyline. Mesa's new head coach makes his debut in Kingman.
Angelo Paffumi was named Skyline's head coach in March after previously working as an assistant coach at Mesa Desert Ridge, where he shared defensive coordinator duties. Last year, Desert Ridge made it to the Division I semifinals.
"They have a new coach and they run a different offense and a different defense from last year," York said. "So it's a whole new planning period for us when we watch their scrimmage."
York has yet to name a starting quarterback. It's between juniors Sean Curran and Tyler Logas, with Thursday's practice determining who gets the nod.
Last year, York had Willie Valdez and Curran split time at quarterback. He hopes one of the two will step up so that he doesn't have to do that again.
"I hope one of them figures it out in the next couple of days," York said.