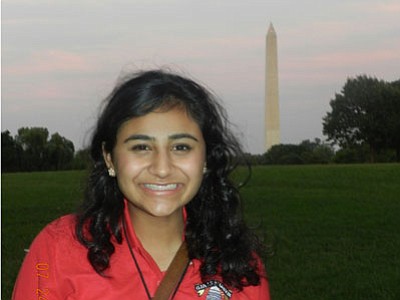 Originally Published: August 26, 2012 6:01 a.m.
Kingman's Aisha Subhan made the most of her selection to Girls State, campaigning for and being elected to represent Arizona at Girls Nation. That earned her a trip to Washington, D.C., in late July.
"It was the best week of my life," Aisha wrote in her report to the American Legion Auxiliary, which sponsored her. "I learned a great deal of things, from parliamentary procedure when operating in the Girls Nation Senate to learning that I have an 'Arizonan' accent."
The first day in Washington included a trip to Arlington National Cemetery. "It was peaceful, serene, and inspiring - reminding each American of the sacrifices and strength seen in American history," she wrote. "I was honored to have the privilege of participating in the 'Telling of Religions Service.' It felt so great to speak on behalf of my religion. I truly felt empowered and at peace with myself."
Aisha also went to Walter Reed Military Medical Center, where she was able to speak to soldiers from Arizona and thank them for their service. The day also included sightseeing, including a visit to the Martin Luther King Jr. Memorial.
Aisha also spent time visiting with members of Sen. John McCain's staff and touring the White House. "The White House was remarkable. I simply could not believe that I was actually inside looking out the windows," she wrote.
Then came another highlight.
"We were all sent to the East Room, where we awaited the president," Aisha wrote. "A few moments passed and the president walked in, with no introduction. It almost did not feel real. The leader of the free world stood right in front of me, shook my hand, and gave me hug. What amazed me the most was all of us Senators were able to put political differences aside and rejoice in the fact that what we were experiencing at a young age is more than some people will experience in a lifetime. After President Barack Obama greeted each and every one of us, we were able to head outside and watch President Obama take off on Marine 1 in a helicopter. It was just like a movie scene - a dream, really.
"I can not thank the American Legion Auxiliary enough. What they have given me is more than I could ever have imagined. Thank you."