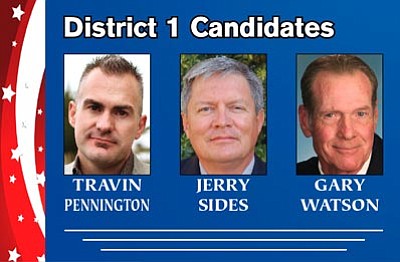 Originally Published: August 27, 2012 6:01 a.m.
Tuesday will be the first time in more than 20 years that Mohave County's election department will be counting votes for five supervisors seats.
The two new seats sparked a stampede of candidates, including challengers for incumbents Gary Watson of Kingman, Tom Sockwell of Bullhead City and Buster Johnson of Lake Havasu City.
Watson, a Republican, is challenged by Travin Pennington and Jerry Sides in District 1. Democrats Denise Bensusan and Janice Palmer also square off Tuesday. Palmer ran an unsuccessful campaign for a spot on the Kingman City Council earlier this year.
Hildy Angius is challenging Sockwell in District 2. Since they are the only candidates, the primary election is serving as the general election, with the winner Tuesday taking the seat for the next four years.
The same scenario holds true in District 3, where Dave Calvi and Johnson are the only candidates.
Nine Republicans are vying for the District 4 nomination - Bob Boyd, Joy Brotherton, Curtis Cutshaw, Mervin Fried, Earl Hamlyn, Robert Lane, Jack Pozenel, Ted Roper and Rick Sherwood. With the exception of Lane (Golden Valley) and Sherwood (Meadview), all the candidates hale from Kingman.
Dolan Springs Democrat Norty Turchen will take on the winner in the general election.
Five Republicans are squaring off in District 5, which includes portions of Lake Havasu City along the Colorado River into the southern Bullhead City area. Sue Donahue, Roy Hagemyer, Jeanne Kentch, Steven Moss and Emma Watson face off, with the winner going against Democrat Hilary Williams in November.
A number of county incumbents are unopposed, including Sheriff Tom Sheahan, Attorney Matt Smith, Recorder Carol Meier, Assessor Ron Nicholson and Division 5 Superior Court Judge Rick Williams.
The exceptions are the race for treasurer, where incumbent Melissa Havatone takes on fellow Republican Cindy Cox, and school superintendent, where incumbent Michael File faces Margaret Nyberg.
A high-interest federal race includes two Mohave County candidates, state Sen. Ron Gould and media tycoon Rick Murphy, as well as Paul Gosar in the District 4 seat in the U.S. House of Representatives. Gosar is in the U.S. House, but is running in a new district.
Democrats in the race are Mikel Weisser of Golden Valley and Johnnie Robinson of Florence.
There's also competition for the state Senate seat (District 5) where Gould was term-limited. Fromer state Representative Nancy McLain of Bullhead City and Sam Scarmardo and Dr. Kelli Ward of Lake Havasu City meet in the Republican primary. The winner takes on Democrat Beth Weisser of Golden Valley in November. Polls will be open from 6 a.m. to 7 p.m. Tuesday. To find your polling place, look on the back of the sample ballot that was mailed to your address.
If you did not receive a sample ballot, you can find your polling place by visiting https://voter.azsos.gov/ or calling (928) 753-0767.
Arizona has an open primary law that allows voters registered as independent or "party not designated" to pick which ballot they would like to vote - Republican, Democrat, Green or Americans Elect.
Voters registered with a particular party will be handed the ballot with their party's candidates.
Remember to bring a photo ID with you, such as a valid Arizona driver's license, state photo ID or valid tribal enrollment card.
If you don't have one of these forms of photo ID you will have to bring two forms of alternative identification with your name and current address. Valid forms of alternative identification include a valid Arizona vehicle registration card, a vehicle insurance card, a utility bill or bank statement that is dated within 90 days of the election, your property tax statement, your voter registration card or any "official election material," such as a sample ballot, that has your name and address on it.
If you don't have ID with you, elections officials are required to give you a provisional ballot. Voters who cast a provisional ballot have three days after the election to prove their identity to the Mohave County Recorder's Office in order to have their ballot counted.
The last time the county had a five-member Board of Supervisors was in 1992. Voters approved reducing the Board to three districts in 1988 in order to cut budget costs.
A movement to return to the five-member Board was started in 2001 and then died in 2007 after the Board decided to wait until the 2010 Census to determine if the county had enough population to trigger a state law. Arizona law states that each county will have at least three supervisors until the county's population reaches 175,000 people or voters approve moving to a five-member board after the county's population reaches more than 100,000 people.