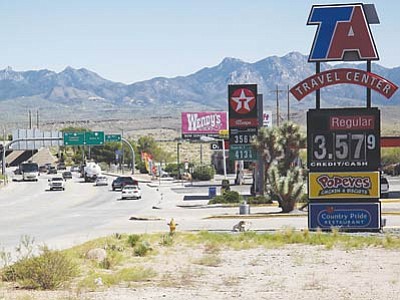 Originally Published: August 28, 2012 6 a.m.
Gas prices throughout the state declined - albeit slightly - over the last several months, but a refinery fire in California earlier this month stopped that trend in its tracks and a new threat, Hurricane Isaac, could send gas prices through the roof.
Though Isaac hasn't made landfall, its expected arrival this week has decreased daily oil production in the Gulf of Mexico by about 24 percent, according to the U.S. Bureau of Safety and Environmental Enforcement. The region accounts for more than 20 percent of all U.S. oil production.
"Until (Hurricane) Isaac makes landfall and the full extent of its damage is assessed, it's difficult to say how and to what extent prices will be affected," said Linda Gorman, director of communications and public affairs for AAA Arizona.
Isaac has already prompted refinery closures, rig evacuations and an uptick in wholesale prices. Once it lands, how high fuel prices go largely depends on the damage it causes to oil production infrastructure, according to AAA Arizona.
If the infrastructure makes it through the storm unscathed, facilities would likely resume production and prices would stabilize. But if Isaac causes excessive damage, the market effect will be lasting.
It all comes down to timing, said Gregg Laskoski, GasBuddy.com senior petroleum analyst. Once a refinery is shut down, even if it's just for a few days, it takes at least a couple of weeks to get it up and running again, he said.
"It's going to cause a modest spike in retail gas prices over the next week to 10 days," Laskoski said. That's a best-case scenario. It's difficult to speculate the effects of a worst-case scenario.
"There's no telling how extreme the damage might be," Laskoski said. "(Storms) magnify the problems of an already delicate infrastructure."
Either way, the country is entering the end of the summer driving season. This is the time refineries switch to producing their winter blends of gasoline, which are cheaper than the summer blends. Also, demand for gas goes down. These factors combine to push prices down, he said. Laskoski expects prices to be the lowest of the year in mid-September and October, but if Isaac destroys a significant amount of infrastructure the timing of when to expect gas-price savings will change, he said.
Currently, crude oil trades at roughly $95 per barrel. Crude had been bouncing between $80 and $90 a barrel for months, Laskoski said.
According to GasBuddy.com, Arizona's average price on Monday was $3.53 for a gallon of regular gas. This is the fifth-lowest price in the nation, but it's up from the $3.24 a gallon Arizonans had in late July.
Though the California refinery fire shoulders some of the blame, Laskoski said refineries in other states have numerous issues as well, including problems associated with switching to the winter blend.
"There's different problems all over the country," he said.
Last week's Energy Information Administration report showed that the nation's total refinery output was 91.2 percent.
The West Coast region, which Arizona relies on for its gas, was operating at 86.1 percent - the second lowest in the country.
This is important because if the Gulf Coast region suffers extensive damage and production slips, it's up to other refineries in different regions to pick up the slack.
"In an ideal world, that's what would happen," Laskoski said. "But right now, there's no guarantee."
Isaac couldn't have come at a worse time.
"More than 564,000 Arizonans will be taking to the road later this week (for Labor Day), and many of them will be keeping a close eye on how this storm will impact their travel budgets," Gorman said.