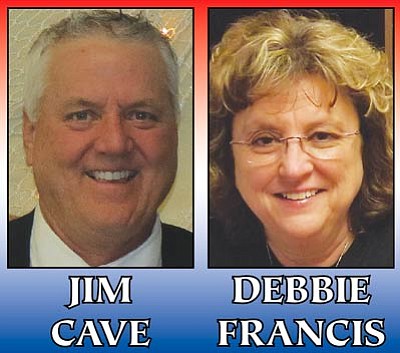 Originally Published: December 3, 2012 6:01 a.m.
Then there were two.
The Kingman Unified school board went behind closed doors Thursday night to interview the top four candidates for the board's vacant seat, which has two years left on a four-year term. Once the interviews were complete, the board slipped into an open session and voted on the candidates they thought best fit the district's needs.
Board members Jeri Brock and Laurie Voss Barthlow voted for Kingman Clerk Debbie Francis. Charles Lucero and Pat Carlin, who attended the meeting via phone, voted for local business owner Jim Cave. Now it's up to Mohave County School Superintendent Mike File to make the decision.
"I'm interviewing both of them Tuesday," File said. He expects to have a decision made by 1 p.m. the same day.
File said he focuses on three main factors when making decisions such as these. What does each candidate bring to the table as far as his or her understanding of the district's budget process? How well does each candidate understand governmental process? And how well does each candidate understand the role of the school board in the community?
"That's what I've looked at for the 13 years I've been charged with appointing board members," he said.
Cave could not be reached for comment because he's spending the weekend hunting with his nephew.
Francis, though she spent 21 years in law enforcement and now works for the city, said she originally went to college to get a degree in elementary education.
"I've always loved education," she said.
Combine that with her thirst for public service and it's easy to see why she decided to submit a letter of interest for the school board's vacancy.
"I enjoyed my interview," she said. "I got to know the board members. It was really nice."