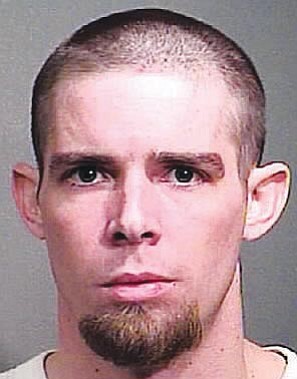 Originally Published: December 3, 2012 6:01 a.m.
The 28-year-old son of a state legislator has pleaded guilty to bringing heroin into Mohave County.
Michael Goodale pleaded guilty Thursday to attempting to transport narcotic drugs for sale. Under terms of a plea agreement with the state, Goodale will receive 3½ years in prison when formally sentenced Jan. 4.
Michael and his sister, 31-year-old Stephanie, were arrested May 23 following an investigation by the Kingman Police Department into the trafficking and sale of heroin into the Kingman area.
Stephanie was arrested at home the same day Michael, his girlfriend, 19-year old Chyla Cass, and two Las Vegas residents were arrested at a gas station on Highway 68 in Golden Valley. Police said the Las Vegas suspects, Penny Jean Bell, 51, and Stanley Joe Williams, 53, had met Michael and his girlfriend to deliver heroin. They seized a half-ounce of heroin and $6,000 in cash at the scene.
Michael Goodale is the only defendant in the cases to have accepted a plea deal. Prosecutors said he was bringing heroin into Mohave County from January until the time of his arrest.
The case against Stephanie Goodale is still pending. Her attorney said during a hearing earlier this month that he feels prosecutors are looking to make an example out of her because of her last name. Michael and Stephanie are the children of Rep. Doris Goodale and her husband Bill, a Kingman Unified School District board member who passed away from complications from a stroke last month.
Stephanie Goodale's attorney has said that they would at least like to make her eligible for probation and a possible jail stint, but prosecutors said they wouldn't offer a deal that doesn't include prison time. She is currently out of jail on bond.