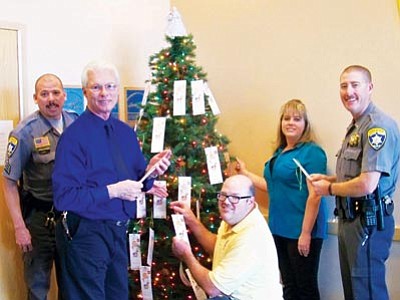 Originally Published: December 4, 2012 6:01 a.m.
It's the season of giving, and around Kingman there's no shortage of opportunities to celebrate the spirit of generosity.
You want to buy a Christmas gift and an outfit for an impoverished child? There are a few places in Kingman you can do that.
Maybe you want to brighten up a lonely senior's holiday or buy gifts for an elderly person living in an assisted living facility or receiving in-home care.
Whatever your fancy, there are ways to help.
There's the Senior Angel Tree at the Kathryn Heidenreich Adult Center, 1776 Airway Ave. On Dec. 10, the tree will be filled with the names of local, generally low-income, homebound seniors, who either have no family or have no way to make a trip to see their family, said Debera Daugherty, the center's executive director.
"We're trying to make their holiday a little brighter," she said.
The tree will be covered in 20 to 30 tags, each containing the name of a local senior and a list of requested items. All you have to do is pick a tag, buy the gift you want to give and return it to the center with the tag.
"Anyone can come pick up a tag," Daugherty said. "And the gifts don't have to be expensive. Just a little something helps."
Once the tags go on, people have about a week to purchase the gifts and return them because the center plans to wrap presents Dec. 17 and 18. The center is open from 8 a.m. to 4 p.m. Monday through Friday. The city of Kingman also has a Senior Tree set up at the City Complex, 310 N. Fourth St.
This tree started with more than 50 tags containing the names of local seniors who live in assisted living facilities, receive in-home care or are homebound. The tags include lists of the items that the seniors want for Christmas, such as candy, cookies, soaps and lotions.
If you're interested, you should get down there as soon as possible because the tree is running out of tags.
Once you pick up a tag, you can buy as many of the listed gifts as you want. You don't have to purchase all of them. But you do have to wrap the presents you buy and have them back to the city by Dec. 21.
Three Salvation Army Angel Trees have been put up around town. Each one is dressed with tags containing the names of local impoverished children who need your help to have a nice Christmas.
There's one at Walmart, 3396 Stockton Hill Road; one at the National Bank of Arizona, 3825 Stockton Hill Road; and one in the main lobby of the Mohave County Sheriff's Office, 600 W. Beale St.
Combined, there are 290 tags on the trees, said Bill Ward, the director of the local Salvation Army Service Center.
Those same kids and their families have already had Thanksgiving dinner provided for them by the Salvation Army, and they will also get Christmas dinner from the service center, Ward said.
The presents purchased for these three particular trees cannot be wrapped for safety reasons, Ward said. Once all the gifts are ready to go out, MCSO will be tasked with delivering them to the children.
"It's a huge project that we do every year," Ward said.