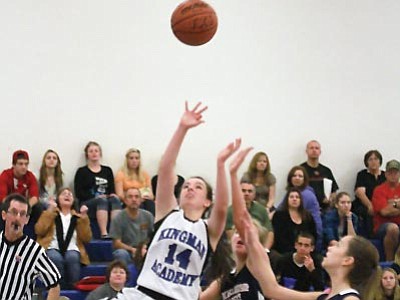 Originally Published: December 5, 2012 6 a.m.
The mood wasn't joyful in the Kingman Academy locker room following the Lady Tigers' 34-22 win over American Leadership Saturday.
The mood was that of a defeated team.
"I was happy, a win is a win, and (the players) were like. 'We know we can do better. We are not satisfied where we are at.' I thought that was good," said KAHS coach Dave Scroggins.
Saturday's win came on the heels of the Lady Tigers suffering their first home loss in nearly three years on Friday. It also comes at a time when KAHS is still struggling to find an identity, as Scroggins has gone to a different starting lineup for each of the team's first three games as they learn the new offense that coach installed this year.
"We are still struggling with this new offense. It's not as structured and it's more open," Scroggins said. "I think this motion offense is so new with them and has very few parameters and they are not used to having that freedom at times."
The good news for Scroggins is there are many games left in the season, including this week's games against Maya and at home against EVAC along with next week's Charter Athletic Association's holiday tournament.
"I think that will be huge and if we can get some games underneath us during the Christmas tournament, it's going to help us," Scroggins said.
Kiley Tomlinson led KAHS (2-1) with seven points. Ali Finkbeiner had six points and Hanna Mousley added five points.
The Lady Tigers took a 10-2 lead at the end of the first quarter, but American Leadership outscored KAHS 7-2 in the second quarter to close Kingman's lead to 12-9 at halftime.
"I was not a happy coach at halftime. I wasn't an angry coach, I just wasn't a happy coach," Scroggins said. "That third quarter was huge, we had some girls that stepped up defensively."
KAHS outscored American Leadership 10-3 in the third quarter to take a 22-12 lead heading into the fourth quarter.
"I want them to enjoy the win. A win is a win no matter how ugly it may be at times. But they are not satisfied," Scroggins said. "That's good, when you can be your own worst critic and you know there is so much more that can be done."