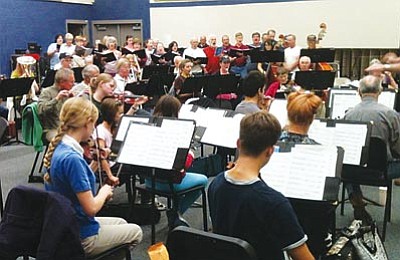 Originally Published: December 5, 2012 6:01 a.m.
The Mohave Community Choir and the Mohave Community Orchestra come together this weekend for the third time in as many years to present the community with "A Christmas to Remember."
Both organizations have been around for about 15 years, and though the choir started as part of the orchestra, the groups split. It has only been recently that the two came back together to present an annual Christmas program. This year's performances take place at 3 p.m. and 7 p.m. Saturday at Kingman High.
"It's nice having the choir and orchestra working together," said Art Swanson, the orchestra's director. "It's better to do this together rather than compete with each other."
During the performance, the groups will perform together and individually. There will Christmas songs aplenty and opportunities to sing along to holiday favorites, but the performances will be highlighted by three selections from the "Messiah," including the crowd favorite "Hallelujah Chorus."
"It's traditional that the audience stands up and sings along during the 'Hallelujah Chorus,'" Swanson said.
Written by George Frideric Handel in the first half of the 18th century, the "Messiah" is a wildly popular oratorio, a religion-themed composition that relies on voices and instruments to tell a story, according to Smithsonian.com.
"The 'Messiah' is such a great piece," Swanson said.
Roger Johnson, the choir's director, is also a member of the orchestra. He said both groups put in a great deal of work to bring the production to life.
Each group has about 45 members and each conducts weekly two-hour rehearsals. Preparation for the Christmas show begins in the summer but gets ratcheted up in October, he said. The groups join for several practice sessions as showtime gets closer and closer.
"We work very well together," Johnson said. "It's because we like working together."
Kingman High is located at 4182 Bank St. Tickets for both performances will be available at the door - $3 for seniors, $5 for adults and $10 for families.
"It's just fun to add to the season in the community," Johnson said. "It takes months to work it out, but the performances should be a fun time for everybody."