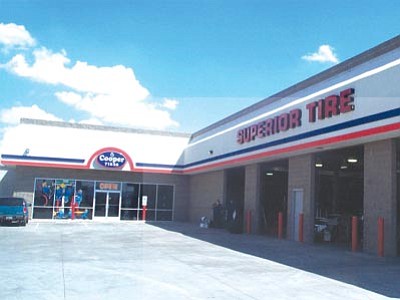 Originally Published: December 11, 2012 6:01 a.m.
Kevin Burgess owns one Superior Tire location in town near the corner of Stockton Hill Road and Gordon Avenue.
He'd like to open a new one along Hualapai Mountain Road, but the city may not allow him to.
He recently asked that the development rules for the Hualapai Mountain Road overlay district be amended to add tire and auto repair facilities.
But the city's planning and zoning staff recommended his request be denied, saying there are plenty of areas around town where tire and auto repair businesses are already permitted.
"There's nothing similar on that side of town to serve the community and my customers," Burgess said. "My customers keep demanding (a new Superior Tire location)."
Burgess believes customers who live in the Hualapai Mountain area but drive to the Stockton Hill Road location deserve a store that better serves their needs.
He considered opening establishing a location near the corner of Stockton Hill Road and Andy Devine Avenue but couldn't find property large enough to accommodate the size needed to open a Superior Tire.
In late 2004, Kingman City Council voted to establish the C-2-Hualapai Mountain Road zoning district, an overlay district used to govern commercial-zoned properties along Hualapai Mountain Road and Mission Boulevard.
"The objective was to create a unique commercial corridor with specific uses permitted by right and by conditional use permit along with clear design objectives," according to the Planning and Zoning Commission's meeting agenda.
There are at least 319 acres of vacant commercial-zoned property in Kingman where tire and automotive repair businesses could be established. This fact is the basis of planning and zoning staff recommending Burgess' request be denied.
Those acres of vacant space don't necessarily meet Burgess' needs as a businessman. Many of vacant properties are either too close to the existing location or not large enough to accommodate a Superior Tire.
Because of the amount of available space suited for these types of businesses around town, planning and zoning staff writes, "the requested text amendment is not appropriate."
Burgess disagrees.
"Why would I want to open a new business two blocks from the current one?" he said.
He said a denial of this request would make no sense to him.
"I would want an explanation," he said. And he would want it to be more detailed than the reasons given in the agenda packet.
The whole purpose of the overlay district was to establish design standards and accomplish a unified Southwestern look. People just want the area to look nice and don't want a business to come in and destroy the look, he said.
Burgess has no problem conforming to the design standards of the area.
"You would think the city would be jumping for joy to add another business in this area," Burgess said.