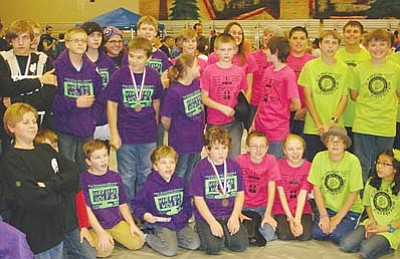 Originally Published: December 12, 2012 6:01 a.m.
The four local FIRST Lego League teams had their seasons come to an end earlier this month in Flagstaff, but even though none of them qualified for the state competition, students came back to Kingman excited about next season.
The 2012 High Altitude Robotics Extravaganza, a FIRST (For Inspiration and Recognition of Science and Technology) Lego League regional tournament, took place Dec. 1 at Coconino High School in Flagstaff. The WareWolves of White Cliffs Middle School, the Virtual Volts of the Arizona Virtual Academy, and the Robo Wranglers and the Cyber Coyotes of the Kingman Academy of Learning Intermediate and Middle Schools competed against more than 20 other teams from Northern Arizona and the Phoenix area.
Intense is the best way to describe the competition, said Rebecca Leggett and Chelsea Heitman, of the Robo Wranglers.
"Getting the robot to balance on (the beam) at the end of the game, that was the best," they agreed.
The challenge, which the teams worked on for several weeks leading up to the competition, was called "Senior Solutions." Teams needed to research issues people encounter as they age, such as lack of mobility, loss of eyesight and the inability to participate in activities they love. Then they came up with robotic-based solutions that allow them to remain connected, engaged and independent, said Celeste Lucier, one of the local FIRST Lego League coaches.
The competition was split into several categories, including a project presentation, which required teams to show what they learned from their research with a skit, a song, a game show or some other type of performance, said Celeste Lucier, one of the FIRST Lego League coaches.
Teams also participated in a robot judging, where they shared with judges the team's game strategy, robot design and programming.
Teams then fielded questions about their projects from the judges, Lucier said.
There was a core values judging segment as well.
"Teams performed a group activity while the judges observed how the members communicated and worked together to accomplish the task," Lucier said.
Different students had different takes on the day's activities.
"Programming the robot and having it do the task correctly" was the best part of the tournament, said Virtual Volt Justin Poole.
But for WareWolf Austin Day, the challenges and the time spent with teams from outside of Kingman topped his list of tournament highlights.
Next year's challenge is called "Nature's Fury: Prepare. Respond. Recover," but other than the title, students have no idea what the details will be.
But that doesn't stop them from being excited about what next season will offer, Lucier said.