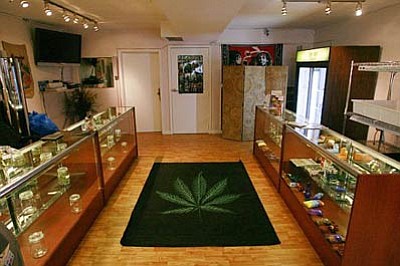 Originally Published: December 12, 2012 6:01 a.m.
Renovations on Kingman's first marijuana dispensary may be finished by January, but a state requirement could prevent the store from opening its doors for another two or three months.
Lake Havasu City attorney Harvey Jackson confirmed that preparations to open a dispensary in Kingman on Northern Avenue are nearly finished. The organization that owns the dispensary, however, is stuck in a Catch-22: The law requires the store to have enough stock to serve customers the same day it is inspected, but it also prohibits a dispensary from growing, stockpiling or buying marijuana before the store is inspected.
"The law states that dispensaries must be open a certain number of hours each week (30 hours) and have enough supply on hand to serve anyone who walks in the door with a valid card," Jackson said. "The problem is you can't grow, import or stockpile any marijuana legally as a dispensary until you're inspected. I've been told that it can take two to four months for a plant to become truly productive.
"I represent 20 different dispensary owner groups and everyone has the same problem. They're not very happy about it."
Jackson declined to name his clients or give the specific location of the dispensary. The Arizona Department of Health Services has stated that state law prohibits it from releasing any information about the owners or locations of dispensaries to anyone other than approved patients and caregivers.
The law allows dispensaries to get stock from other Arizona dispensaries or accept donations from patients and caregivers who are approved to grow the plant, he said. The problem is that there's only one dispensary open in the state and only about one-third of the dispensary owners that Jackson has spoken to plan to grow their own.
The Arizona Department of Health Services is allowing some dispensaries to apply for an exception that would allow them to be inspected first and then wait until they had enough product to open their doors.
According to the Arizona Republic, ADHS approved an exception for Arizona Organix, a dispensary in the Glendale area, which was inspected in November but opened last week.
The owners told the newspaper they delayed the inspection and opening of their dispensary because they were waiting to see if the Maricopa County Superior Court would rule that the state law does not interfere with federal drug laws and because they were still looking for a place to grow their marijuana stock.
According to the Republic, Organix ended up depending on a number of patients and caregivers who donated enough marijuana for the dispensary to open and keep enough stock to stay open.
Jackson suspects that a lot of Arizona dispensaries will do the same thing.
The Kingman dispensary does not plan to grow its own marijuana, he said. It'll get it from other sources.
The dispensary's location on Northern Avenue doesn't prevent it from growing at the dispensary or make it harder to grow, Jackson said.
The owners just decided they didn't want the hassle of growing their own stock.
Putting the dispensary inside the Kingman city limits would not have made a difference, he said. The deciding factor in putting the dispensary on Northern Avenue was that the building required very little remodeling.
His clients aren't worried about running out of marijuana, he said. There may be a long line the day they open, but they don't expect a lot of daily traffic.
"It'll be like any other store. Although dispensaries are allowed to sell as much marijuana as they like, the law only allows someone to purchase up to 2.5 ounces of marijuana every two weeks," Jackson said.
His clients aren't worried about the federal government interfering with their business.
"That was a red herring put out by the state," he said. Arizona officials had voiced concerns that state employees might be prosecuted by the federal government for running the state's medical marijuana program.
If the federal government did decide to seize his clients' business, they would have to be prosecuted under state law, Jackson said, unless they were transporting the drug across state lines. His clients don't plan to export marijuana to another state and state law prohibits importing or exporting the drug to or from another state.
They also didn't expect any trouble with state laws, despite the law being so complex, he said, noting that these are business people who are used to working with regulations and many dispensary owners have hired attorneys to make sure they stay within the state regulations.