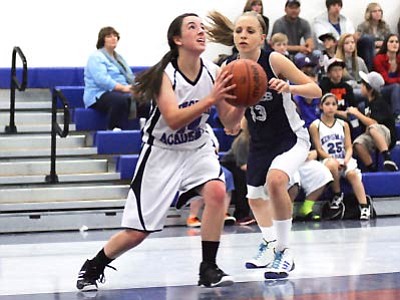 Originally Published: December 12, 2012 6 a.m.
Last year, Kingman Academy came within 10 points of capturing its second straight 3A Charter Athletic Association championship.
This year, the Lady Tigers have been more like Jekyll and Hyde than a state championship contender over their first five games.
At this point last year, KAHS was undefeated and looked unstoppable. This year, the Lady Tigers head into the Charter Athletic Association's Holiday Tournament 3-2 after suffering a pair of uncharacteristic home losses, including Saturday's 35-14 loss to EVAC.
"It's the consistency of the execution," said KAHS coach Dave Scroggins. "I'm not doing anything different for the past seven years. It's the exact same thing. I know it's successful because I've been successful with it."
KAHS opened the season with a 31-11 win over Metro Tech and looked destined for another successful season. But a 30-17 loss to Gilbert Early on Nov. 30 left some questions about a young team in search of its identity as they tried to fill the shoes left by last year's departed seniors.
However, the Lady Tigers appeared to push doubt aside in a pair of wins over American Leadership and Maya before Saturday's loss.
"It's not effort. I think the effort was there," Scroggins said. "I just don't think we executed as well as we could have."
KAHS will have to have a short memory as they open the tournament with EVAC on Friday.
"I want to give the girls more experience. That's what I'm looking for in the Christmas tournament," Scroggins said. "Let's work on some stuff in practice and execute it in these next few games."
KAHS will conclude the holiday tournament Saturday and then be off the court for the holiday break before returning Jan. 4 against Estrella.
"We are just on a roller coaster right now," Scroggins said. "I have to keep telling myself that they are young."