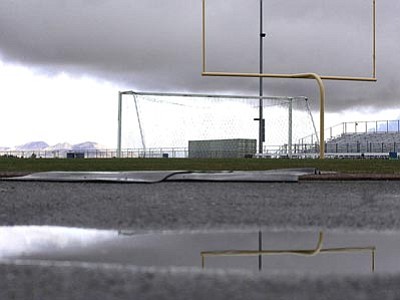 Originally Published: December 16, 2012 6:01 a.m.
The season's first winter storm wreaked havoc on the athletic schedule at Kingman High School on Thursday and Friday.
Concerns over possible snowfall and icy roads on Thursday prompted school officials with Prescott High to postpone its soccer and basketball games with Kingman.
"I talked to the AD from Prescott and he said, 'John, this is what we are hearing so we have to reschedule,'" said KHS athletic director John Venenga. "With the snow that they were predicating, they were telling people to stay off of I-40 after 7 p.m., so we just heeded that warning."
KHS was scheduled to travel to Prescott for girls soccer and boys basketball while Prescott's boys soccer and girls basketball teams were scheduled to travel to Kingman.
Instead, the boys soccer match will be made up on Tuesday while the boys basketball game will be made up on Friday. The girls soccer team will make up its match with Prescott on Jan. 14 and the girls basketball team will make up its game at 4 p.m. Jan. 26.
On Friday, Kingman High was scheduled to play Flagstaff in basketball, with the boys team at home and the girls team traveling to Flagstaff. However, with the Flagstaff area receiving 3 inches of snow overnight and an additional 1-3 inches possible for Friday, the Flagstaff Unified School District called off classes.
"My understanding is that I-40 may be closed in parts," Venenga said. "I don't know where that is. I just know we are not getting to Flagstaff and they aren't getting here."
No make-up dates have been announced regarding the Flagstaff games. Venenga did say the wrestling team made it to Glendale for its match against Ironwood and Phoenix Barry Goldwater.
Much of Arizona was impacted by the storm that brought rain from Kingman south to Phoenix and Tucson, while many of the higher elevations of the state received snow.
Locally, according to the National Weather Service, Kingman received a quarter of an inch of rain as of 1:30 p.m. on Friday.