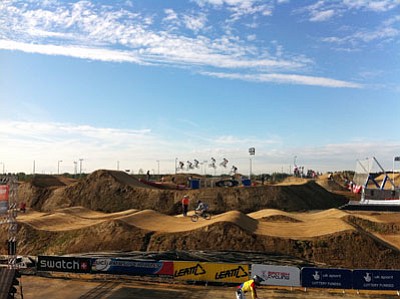 Originally Published: December 18, 2012 6:01 a.m.
KINGMAN - The Mohave County Fairgrounds Association and local BMX enthusiasts are optimistic that they can jump one final hurdle before starting construction on an officially licensed bicycle racetrack at the fairgrounds.
The Fair Association has to get permission from the Board of Supervisors before it can start moving dirt to build the track, said Toni Swats, the association's spokeswoman.
Joy Brotherton, another new supervisor joining the Board in January, thought the idea would be a boon to the area.
"I certainly wouldn't be opposed to it," she said. "I know some residents that live in that area have had some concerns about the noise from the events that have been held there, but I think it's something that both adults and kids can use and enjoy."
Jim Kloepfer of Bicycle World on Northern Avenue said a group of local BMX enthusiasts has been working on the project for two or three years.
The group hopes to have an official track-building team from USA BMX at the fairgrounds in mid-January to help plan a 1,200-foot dirt track, Kloepfer said. He's already got a number of contractors waiting to donate their time to build the track. If all goes well, the track should be completed before the start of the 2013 race season, which begins in late February.
"I think it will be super," Kloepfer said. "I think we're going to have people start coming out of the woodwork."