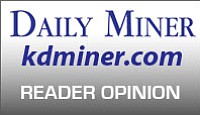 Originally Published: December 20, 2012 6:01 a.m.
I pray for the victims and their families of the Sandy Hook Elementary School massacre. I cannot imagine the amount of grief they are going through at this time. Following such tragedies, we all try to think of actions we can take to prevent a recurrence. In looking at Friday's shooting and others that have happened over the past many years, some things are very clear:
1) There are evil people in the world who commit evil deeds and nothing will ever change that.
2) "Gun-Free Zones" offer a false sense of security. The killer at the Sandy Hook Elementary School broke several existing laws by bringing the guns onto the campus before he started shooting. To this deranged killer, the gun-free zone was simply a place to kill without any effective resistance. "Gun-free zones" equate to "defense free zones."
3) Gun control never has and never will work to reduce violence. Look at the crime rates in the cities with the toughest gun laws, where guns are more or less outlawed. Washington D.C. had the highest murder rate by handguns when guns were outlawed there. All the gun laws on the books did nothing to prevent or stop the gun violence at the schools and other locations over the past many years.
In the early 1970s, Israel was faced with armed terrorist attacks on their schools. There was a cry for more gun control then, too. But Israel carefully looked at all options and adopted a proactive position of arming and training their teachers and school administrators. The school shootings stopped as the terrorists looked for easier targets.
Israel has the right answer. Society is safer when we train and arm our law-abiding citizens. The time has come to re-examine the fallacy of "gun-free zones."
How many more massacres must we endure before we study the research and adopt policies that actually reduce crime and begin saving our children instead of leaving them helpless victims when the next evil person walks onto a school campus?
Jack Morgan
Kingman
More like this story