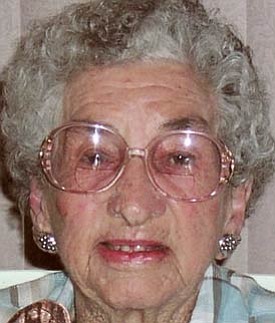 Originally Published: December 27, 2012 6 a.m.
Hannah Louise Bittick Neal "Betty" was called home by our Lord on Saturday, Dec. 22, 2012, after a short stay at the Gardens in Kingman. She was born Jan. 25, 1921, in Dudleyville, Ariz., to Albert and Jennie Bittick, an Arizona pioneer family. She lived in Dudleyville and Mammoth, Ariz., for most of her life. The last 11 years she resided in Kingman.
Betty was preceded in death by her husband, Hugh "Shorty" Neal; her brothers, Joe and Albert Bittick; and sisters, Ruby Smith and Della Smith. Survivors include a daughter, Louise Miller (Roger) of Kingman; sons, Lee Neal (Jane) of Valrica, Fla., and Don Neal (Earlene) of Dudleyville; grandchildren, Darlene Blanton (Gary), Richard Chambers (Kathy), Joe Chambers of Kingman and Gauge Neal of Dudleyville; great-grandchildren, Alyssa Mason, Tiffany Mason, Brandon Mason and Brent Mason (Jessica); and a great-great-grandchild, Adilyn Mason, all of Kingman.
Betty's greatest joys were attending family gatherings and watching baseball.
A graveside service will be held at 2 p.m., Friday, Dec. 28, at Mountain View Cemetery, 1301 Stockton Hill Road.
More like this story