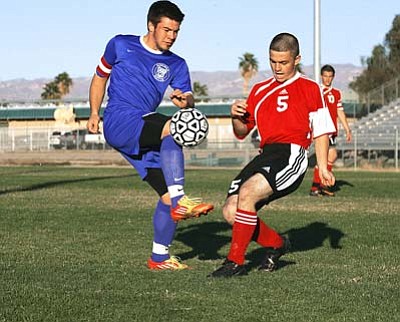 Originally Published: December 30, 2012 6:01 a.m.
It started off as a simple phone call to professional soccer player Hormoz Tabrizi.
Now Mandy Kamin, mother of Kingman High soccer player Darin Kamin, is in the process of putting the finishing touches on a soccer camp that is expected to attract 35 players from the Kingman area.
"I called him Nov. 1 to see if he would do it," Kamin said. "I then talked to the soccer coaches to see if they would be interested in doing it, and they said yes. It sounds like a great thing to do."
The camp will be hosted by the Kingman High boys soccer team and will run Friday through next Sunday at the school. The cost of the camp is $30 and it's open to both boys and girls from all local high schools. Players are asked to bring a soccer ball with their name on it, soccer cleats, a water bottle and shin guards.
"It's a great opportunity and I can't believe that more kids haven't jumped on it," KHS boys soccer coach Kevin Wilkerson said.
As of Friday afternoon, Kamin had 35 players committed.
Players can register until the camp starts at 9 a.m. Friday. Tabrizi will be teaching campers a wide variety of skills, including ball handling, speed training and speed training with the ball.
"I always love helping kids and teaching them and making them better in soccer," said Tabrizi, who has been putting on soccer camps for the past 25 years. "That has always been my goal and I'm sure some of the training that I'm going to show them, they've never seen before."
Tabrizi began playing soccer when he was 4 years old while growing up in Iran before moving to the United States at 16. While attending high school in New Jersey, he received all-state honors before going to college in New Hampshire.
Tabrizi moved to San Diego to play professionally and has played in Detroit and Philadelphia. He currently resides in San Diego, where he has helped put on soccer camps throughout Southern California and the Phoenix and Las Vegas areas.
"For me, it's always been the look on a kid's face. It's priceless," Tabrizi said. "When you tell them to shoot the ball and they can't do it, but they get better and better. The fact that they accomplished something, that is the biggest thing for me."
During his 25 years of putting on camps, Tabrizi has witnessed first-hand the growth of soccer in the U.S., especially on the girls side. He says girls generally outnumber the boys in his camps. He attributes this to the success of the women's national team that won the World Cup in 1999 and has taken gold in four Olympics.
"That is one reason," Tabriz said. "The parents have figured out that soccer is a much better game to be in shape. It's not as boring as baseball and it's not as dangerous as football. It's really not an expensive game. You can juggle (the ball) by yourself and get better at it. The success of the national team, especially on the women's side, contributed to this."
Wilkerson said he would like to organize another camp next year.
Kamin, who met Tabrizi at a camp at Embry Riddle a couple of years ago and asked for his contact information in July, hopes it does become an annual event.
"It's something new to bring to the community," Kamin said. "I don't think we ever had anything like this as long as I've been here."